Residents in Brechin, Angus, face a nervous wait to discover how much of a £3 million prize pot they will share in the March Postcode Millions.
The People's Postcode Lottery has announced it will distribute the sum to game entrants in DD9 6, covering the city centre.
Entrants who live in the specific winning postcode will share £1.5 million, with the same sum dished out to the remaining entrants living in the wider DD9 6 postcode.
In accordance with Gambling Act 2005 restrictions, the maximum amount which can be won by a single ticket is £400,000, or 10% of the total draw proceeds.
Winners will receive their invitation in the post today to attend a special event at The House of Dun, on Saturday April 1, where they will find out exactly how much they've won.
People's Postcode Lottery Ambassador and TV presenter, Jeff Brazier, who will be presenting the winning cheques on the day, said: "I just can't wait to head up to meet our lucky winners in Brechin and reveal those cheques.
"There will be some delighted faces on the day, both from our players and from the charities that they've supported. Good luck to all our wonderful players."
With a minimum of 30 per cent of ticket sales going to good causes across Great Britain and internationally, players have raised £182.7 million for charities since it began 12 years ago.
Local projects that have benefited from People's Postcode Lottery include Dundee Repertory Theatre, which received £15,000 for its youth dance initiative.
Organisers will reveal more details regarding the cheque presentation, including the minimum amount winners can expect to receive, in the coming days.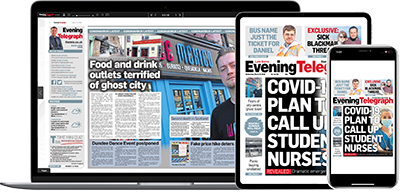 Help support quality local journalism … become a digital subscriber to the Evening Telegraph
For as little as £5.99 a month you can access all of our content, including Premium articles.
Subscribe