Public swimming at two pools has been stopped due to staffing constraints.
The Tele has learned that there will be no public swimming at either Grove or St Paul's Swim and Sports Centres until further notice.
Leisure and Culture Dundee have confirmed access to the pools will not be available at either of the centres due to a shortage of lifeguards.
A spokesman for Leisure and Culture said: "We have limited public sessions due to a short term shortage of lifeguards.
"Swimming lessons and dry side facilities such as fitness studios and hall bookings will run as normal."
Union chiefs revealed they have received formal notice from Leisure and Culture Dundee stating swimming has been affected for the past few weeks.
The notice to Leisure and Culture staff said: "You will have noticed that for the past few weeks public swimming availability  has been very poor across St Paul's and Grove Swim and Sports centres.
"This is due to a shortage of lifeguards to supervise these sessions.
"Due to ongoing issues and  expected duration of times to recruit lifeguards, all public swimming at the two centres will be unavailable until further notice."
Helen Meldrum, GMB Scotland organiser, said : "This situation is unacceptable to both staff  and the public.
"The GMB has been warning for some time that public swimming in Dundee is under threat, along with swimming lessons.
"We received an assurance from the leader of Dundee City Council that this was not the case.
---
---
"We have now been shown to have been right along along.
"This closure of public swimming at two city pools is proof that there are definite issues within Leisure and Culture at city swimming pools.
"We would ask John Alexander to address this situation and explain what the council propose to do.
"They are saying there are three other public pools in Dundee at Olympia, Harris and Lochee but these are not easily accessible for many people who live in other areas."
Stan  Nutt, chairman of Broughty Ferry Community Council said he was very disappointed to hear that  public swimming was not to be available at Grove.
And he insists it's not fair to single out some pools rather than spreading staff across the city.
Mr Nutt said: "I understand that health and safety has to be a prime consideration but I don't understand why something can't be done to maintain at least  some time of public swimming at Broughty Ferry.
"If there is currently only a few lifeguards can these not be used on a rota basis at all the city's pools.
"Why should Grove be closed completely for public swimming.
"This is something which we will be discussing at the next meeting of the community council to be held in January. I don't want this to continue to any extended period of time."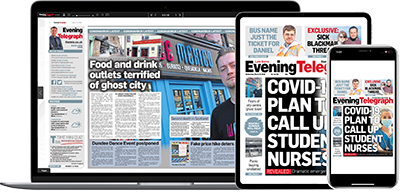 Help support quality local journalism … become a digital subscriber to the Evening Telegraph
Subscribe