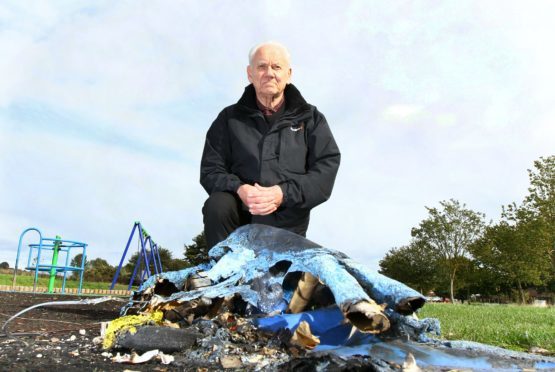 "Mindless thugs" who set fire to play equipment have been criticised by local leaders.
Ron Neave, chairman of Fintry Community Council, said he discovered play equipment in the newly refurbished Fintry Park had been set on fire for a second time by vandals.
Ron said: "I was disgusted when I saw the latest damage. I just don't understand why people do this to their own community.
"I was in the park on Friday when I saw this latest damage for myself. It's terrible that mindless thugs are causing damage to a playpark for children in the area.
"The park has just had a major regeneration. We recently spent £120,000 upgrading play equipment.
"Sadly, some of the new equipment was set on fire in the summer and now this has happened.
"I wish people would realise they are only harming their own friends and neighbours, if it turns out to be local people who are causing this damage."
He said a swing that would cost up to £1,000 to replace had been set on fire and destroyed recently.
Ron added: "There have also been a series of other minor fires set in the park over recent months.
"I spoke previously about getting CCTV in the park but now I think we need to look at this seriously.
"It will cost us several thousand pounds but it will be worth it if it helps catch the culprits who are causing this damage. It's a minority that are causing all the trouble – I think the one way to get round that is to put some kind of CCTV camera in so we would have photos of the culprits."
North East councillor Brian Gordon said: "I was told about this latest damage at the weekend.
"It's awful that the community works hard together to provide equipment of this type and vandals think it is all right to damage it."
He said he is aware the local community council is keen to get CCTV at the scene to try to prevent incidents like this taking place. "This is something that we can discuss with them as a way to catching the people who carry out acts of this nature," Mr Gordon added.
"There have been several and we need to stop them happening."
It is understood that the fire at the park burnt itself out.
A spokesman for the Scottish Fire and Rescue Service said: "We were not called to attend any fires in the Fintry area at the time this is understood to have taken place."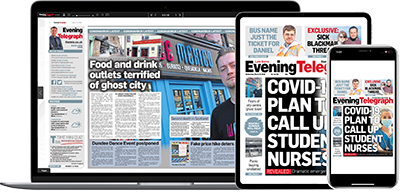 Help support quality local journalism … become a digital subscriber to the Evening Telegraph
Subscribe