Train customers were left stranded after a derailed train caused major disruption which is expected to cause a third day of travel headaches.
The Dundee to Aberdeen line is closed completely  after a train derailed at Stonehaven on Wednesday evening. A bus replacement service will run between the two cities.
Rail operators were unable to start work on recovering the train until daylight yesterday, with service delays and cancellations were expected until at least 6pm yesterday.
However, the train was removed from the tracks last night but services are still unable to run, with the Rail Accident Investigation Branch to continue its work today.
Not only did the derailment cause issues across Scotland, services to London were also up in the air.
Peter Holliman, 58, was due to catch a train to London for a business trip.
The Claverhouse man said: "It's ridiculous, I've asked for a refund straight away.
Line between #Aberdeen & #Dundee remains closed this morning as worknto re-rail train at #Stonehaven continues.

When clear, Rail Accident Investigation Branch will complete its investigation and we will assess damage & repair track.

Replacement buses are still in operation. pic.twitter.com/fFSeVeZT4x

— NetworkRail Scotland (@NetworkRailSCOT) October 12, 2018
"I came in to see that the train had been cancelled and nobody at the front desk could help.
"I know there was that problem with the Aberdeen line but I didn't think it would affect my train too badly as it is heading south.
"You've got this brand new station and there's nobody around to help passengers when there's something wrong.
"At this moment in time I don't really know what is going on."
Coral Forbes, 23, was one of those waiting for a replacement bus service to Aberdeen.
She said: "It's pretty frustrating, I don't think there's anybody who likes getting the bus when they've paid for a train ticket in advance.
"You can see it's getting pretty busy downstairs because I just saw there was a Glasgow train and a London one cancelled.
"I don't know anything about what they do on the railway but to have the trains cancelled until 6pm seems a bit ridiculous to me.
"I'm supposed to be coming back later today but I'm still not exactly sure what will be happening."
A ScotRail spokesman said: "We are sorry to customers for any disruption to their day.
"Buses will replace trains between Aberdeen and Dundee.
"Customers are asked to check @ScotRail on Twitter or download our app throughout the day for the latest information."
There was embarrassment for ScotRail yesterday after its new high-speed train broke down briefly during a landmark journey.
The firm was marking its first Inter7City train entering service with a journey from Aberdeen to Edinburgh – but it was hit by a "fault" near Ladybank, Fife. Rail services on the east coast were affected until 3pm.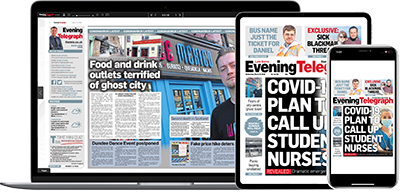 Help support quality local journalism … become a digital subscriber to the Evening Telegraph
Subscribe