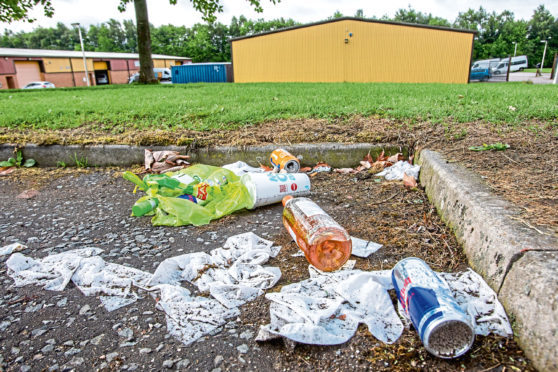 Dirty nappies and food waste have been left at a Dundee industrial estate, which had been used as a campsite by Travellers.
Residents said about four caravans had been pitched up on land at Slessor Court Industrial Estate at Claverhouse in recent weeks.
Other debris lying at the site on Highland Chief Way includes dozens of plastic bottles, used food containers, children's toys, clothes and DVDs.
People living nearby said a group of Travellers had arrived at the site last month.
One woman said: "The Travellers were there for a while before they were moved on by the police.
"However, they returned later. I saw four caravans and I saw dogs tied to trees."
The resident said there was now rubbish piled up at the site and described the debris as "disgusting".
Local councillor Brian Gordon said clearing up mess of that kind places an additional burden on the local authority's budget.
He said: "I am shocked at the mess that as been left at this site.
"Whoever left it had no thought for whoever has to clear it up and the cost to the taxpayer.
"I will be asking the council to investigate who has left this mess behind.
"If it was Travellers we need to take further steps to stop them returning to this site.
"We are currently facing severe budget restraints in Dundee – and particularly in the environmental department.
"This adds a huge extra burden on to our budget and on to our already hard working workforce."
There is a registered site for the use of travellers at Tealing on the outskirts of Dundee just off the A90.
Labour leader Kevin Keenan previously said there had been discussions about opening another official site for Travellers at Camperdown Park.
He said: "I know some people were a bit upset by that, as they did see it is giving away part of the park which was gifted to the town.
"But I suppose it puts people into one area which is designed for that purpose."