Ninewells nurses and care assistants have been praised for granting a dying man his final wish to see his beloved pet dog from his hospital bed.
Hospital staff managed to work around infection control policies in the hospital to allow Peter Robson the chance to see his pet Shep one last time.
He sadly died a short time later with his family left "eternally grateful" adding: "you don't know what this meant to our granddad."
Peter's granddaughter Ashley Stevens shared emotional video clips and images of the emotional moment to social media. The post has since went viral with NHS staff being praised for their actions.
In the clip, Shep can be seen excitedly wagging his tale and kissing his owner on their last moments together.
Ashley wrote: "Absolutely amazed and touched today from the NHS Ninewells Hospital, our granddad's last and final wish was to see his dog one more time.
"Still in shock that the wish was granted and they went above and beyond today and made a dying man very happy.
"Cheryl Whyte charge nurse of Ward 3 you are an absolute angel."
Senior charge nurse at ward 3 Fiona McCallum also praised her staff.
She said: "I am so proud of Cheryl and the rest of the team for this caring and compassionate act.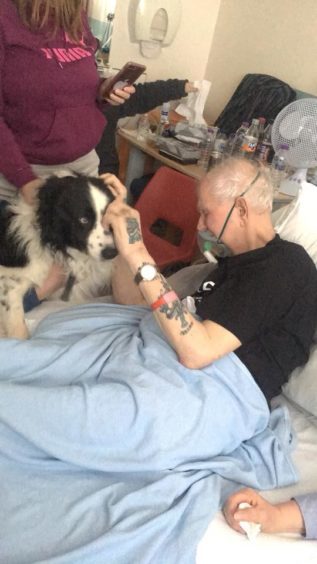 "The team worked with colleagues in infection control to make this possible and I can't thank them all enough for going above and beyond to bring some comfort to Mr Robson and his family."
NHS Tayside Chief Executive Lesley McLay added: "Our thoughts are with Mr Robson's family as they deal with their loss at this difficult time.
"The ward 3 team has done a wonderful thing for this family. It is often the little things that mean the most to patients and their families and I'm so pleased that the staff were able to grant this wish.
"The team in ward 3 was the first ever Gold Outstanding Team winner in our STAR Awards last year and, with actions like this, it's not hard to see why."