What does a typical Dundonian look like? What do they do each day and how do they feel about their area?
In the first of an eight-part series, we aim to paint an up-to-date picture of how the city's people live, based on the results of a new survey.
Dundee's most recent citizens' survey was carried out last year and local area results are now available. Today Jon Brady and James Simpson look at the West End, where locals were asked about their lifestyles.
Stretching from Perth Road all the way out to Ninewells, the West End is a varied area with a diverse population – mostly Scottish, but with a relatively large Polish population, and a mix of all ages.
And if there's one thing to be said about West Enders, it's that they like where they live: 89% said they would rate the area as a "very good" place to live.
Almost three quarters of those asked said that they could find nothing to fault about the area. Generally long-term residents, more than half of those living in the West End have been there for more than three years, and say they have seen the area improve.
That said, 53% of those asked say people have become less friendly, and the other 47% think there are too many private lets – unsurprising for Dundee's student quarter.
Generally, West Enders are happy with the range of amenities they have open to them, from playparks to shopping.
However, a third of those asked said the streets could be cleaner. A typical West Ender gets about by bus – with two-thirds of locals catching a bus at least once a week.
And they like to keep fit too: 69% take part in organised sports at least once a week.
Nearly nine in 10 people say they are in "good" or "very good" health and 84% don't smoke. Almost all residents are registered with a doctor, and 88% go to the dentist.
Of those who took part in the survey, 23% either agreed or strongly agreed that they could influence decisions affecting the area, while 7% either disagreed or strongly disagreed.
Despite fears that people are less friendly, most folk living in the West End believe they can turn to friends for support in times of need.
The West End is seen by its residents as a "very safe" or "fairly safe", with levels of crime staying the same.
Most people are balancing their books, and the relative majority also believe the council provides a good service.
Adam Cupples, 26, has lived in the West End for the last four years. He said: "There are plenty of bars and shops right on your doorstep.
"I lived in the area while I was studying at Abertay. I now plan on staying here for the foreseeable future."
Ian Smith, 70, a part-time tutor, added: "There is a good mix of ages living in the area."
Jen Coling, 23, has lived in the West End ward for three years. She said: "I like the fact Magdalen Green is so close to my home."
Former Harris Academy pupil and West End resident Jacqui King, 48, said she was "surprised" to hear people had become less friendly: "I've grown up in the area and generally you'll see the same faces. I love students but there are too many HMOs in the area."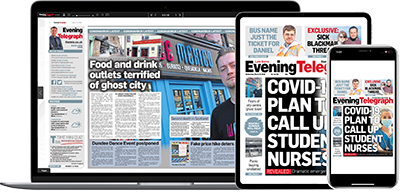 Help support quality local journalism … become a digital subscriber to the Evening Telegraph
Subscribe