Drinkers in Dundee and Scotland face paying hundreds of pounds more a year to enjoy their favourite tipple.
From 10am today, all alcohol sold in Scotland will be subject to the Scottish Government's minimum pricing measures.
The proposal finally comes into force after a legal challenge to stop the introduction of a minimum 50p per unit price failed.
We have picked out a sample of drinks and shown how much prices will rise.
Cider drinkers will suffer most, with Frosty Jack's and Country Choice more than doubling in price.
This is because they contain a high percentage of alcohol – drastically increasing the number of units in the drink.
Even those who enjoy weaker cider — such as a two-litre bottle of 5% Strongbow, for sale at about £3.49 in local stores — would have to pay £1.51 more every time they bought one.
Some vodka drinkers face 30% price hikes, with Lambrini almost doubling.
Although those buying mainstream lager in small amounts would be largely unaffected, buying in bulk may be more costly.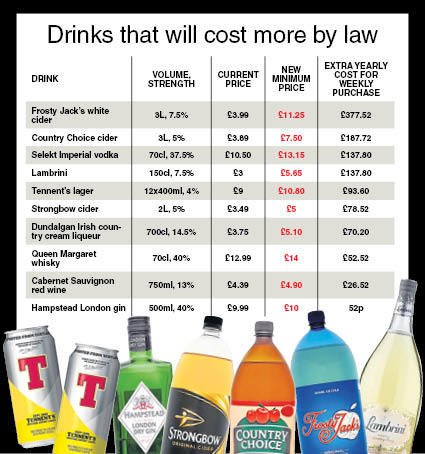 What is Minimum unit pricing?
Minimum unit pricing, or MUP, simply sets a floor price for a unit of alcohol, meaning it cannot legally be sold for less than that. The more alcohol in a drink, the more expensive it will be.
Why does the price of alcohol matter?
Health campaigners argue when the price of alcohol goes down, consumption of alcohol goes up. The more affordable drink becomes, the more people use it, and the more harm society experiences because of it.
What exactly is being introduced?
The Alcohol (Minimum Pricing) (Scotland) Act was passed by MSPs at Holyrood in 2012. The Scottish Government confirmed in February this year it would set the baseline price for alcohol at 50p a unit. Ministers believe MUP will mostly affect the cheap white ciders and value spirits with high alcohol content that tend to be favoured by harmful drinkers. A 50p minimum price means a 70cl bottle of whisky could not be sold for less than £14. It takes the cost of a 70cl bottle of 37.5% vodka to no less than £13.13, four 440ml cans of 9% lager increase to a minimum of £7.92 and a 75cl bottle of 12.5% wine can be sold for no less than £4.69.
What's wrong with bringing in other measures instead?
Ministers insist Scotland's alcohol problem is so significant that "ground breaking" measures are needed. They say that, given the link between consumption and harm and evidence that affordability is one of the drivers of increased consumption, addressing price is an important element of any long-term strategy. Ministers believe there is strong international evidence that tackling price, as part of a package of measures, can help reduce alcohol consumption.
Just how serious is Scotland's relationship with the bottle?
The Scottish Government argues the nation's relationship with alcohol has become imbalanced. Almost a fifth more alcohol is sold per adult in Scotland than in England and Wales, and statistics show more than 40% of prisoners were drunk at the time of their offence. On average, alcohol misuse causes about 697 hospital admissions and 22 deaths a week and it costs Scotland £3.6 billion each year, or £900 for every adult, ministers say.
What impact could MUP have on harm reduction?
Ministers say it means less money will have to be spent dealing with the consequences of alcohol misuse. They point to research suggesting the move is expected to save 392 lives in the first five years of implementation.
The legislation was passed in 2012, so why has it taken Scotland so long to have minimum pricing for alcohol?
Implementation of the law was held up due to a long-running legal challenge from alcohol industry bodies, led by the Scotch Whisky Association (SWA). Their challenge was heard at various levels at Scotland's highest civil court, the Court of Session, and went to the Court of Justice of the European Union. It was only after that the hearings moved to the UK Supreme Court, which rejected the industry challenge.
What are the arguments against MUP?
The Scotch Whisky Association (SWA) believes it will not tackle alcohol misuse effectively and says there is no evidence MUP is effective in reducing alcohol-related harm. It believes the measure contravenes EU trading rules. It claims MUP will set a precedent for "equally ineffective and illegal measures" by other countries which could severely damage the Scotch Whisky industry's export markets and the Scottish economy. The body says it is a regressive policy that hits responsible drinkers, in particular those with the lowest incomes. They agree there is a problem with alcohol misuse but say alcohol-related harm in Scotland has declined in recent years. In addition, existing laws on under-age sales and sales to drunk people are not fully and effectively applied at the moment, it argues.
Scotland 'leading the world'
Scotland is leading the world by becoming the first country to implement the minimum unit price for alcohol, Nicola Sturgeon has said.
The First Minister hailed the policy, designed to cut alcohol-related harm, as "bold and brave" as it was finally brought in across the country.
The minimum 50p per unit price, delayed for six years by a legal challenge led by the Scotch Whisky Association, has been welcomed by the medical professional and health campaigners as the biggest breakthrough in public health since the ban on smoking in public.
It is estimated the move could save around 392 lives in the first five years of its implementation in Scotland, where on average there are 22 alcohol-specific deaths every week and 697 hospital admissions.
The misuse of alcohol is thought to cost Scotland £3.6 billion each year, or £900 for every adult in the country.
Speaking on a visit to Edinburgh Royal Infirmary, Ms Sturgeon said: "Scotland is the first country in the world that is being bold enough and brave enough to implement minimum unit pricing.
"The eyes of the world will very much be on Scotland, not just today but as the benefits of this policy start to be seen and felt.
"Already we see countries across the British Isles – Wales and Ireland – looking to follow suit and I'm sure that as the benefits of this policy start to be seen we'll see other countries elsewhere doing exactly that.
"All of the evidence says that minimum unit pricing will reduce deaths from alcohol-related illnesses, reduce hospital admissions and generally reduce the damage that alcohol misuse does to our society.
"No one has ever said that minimum pricing on its own will resolve all of the problems we have with alcohol misuse but all of the experts who support this policy will also say that without this all of the other things  we do will not have as much impact as we want them to."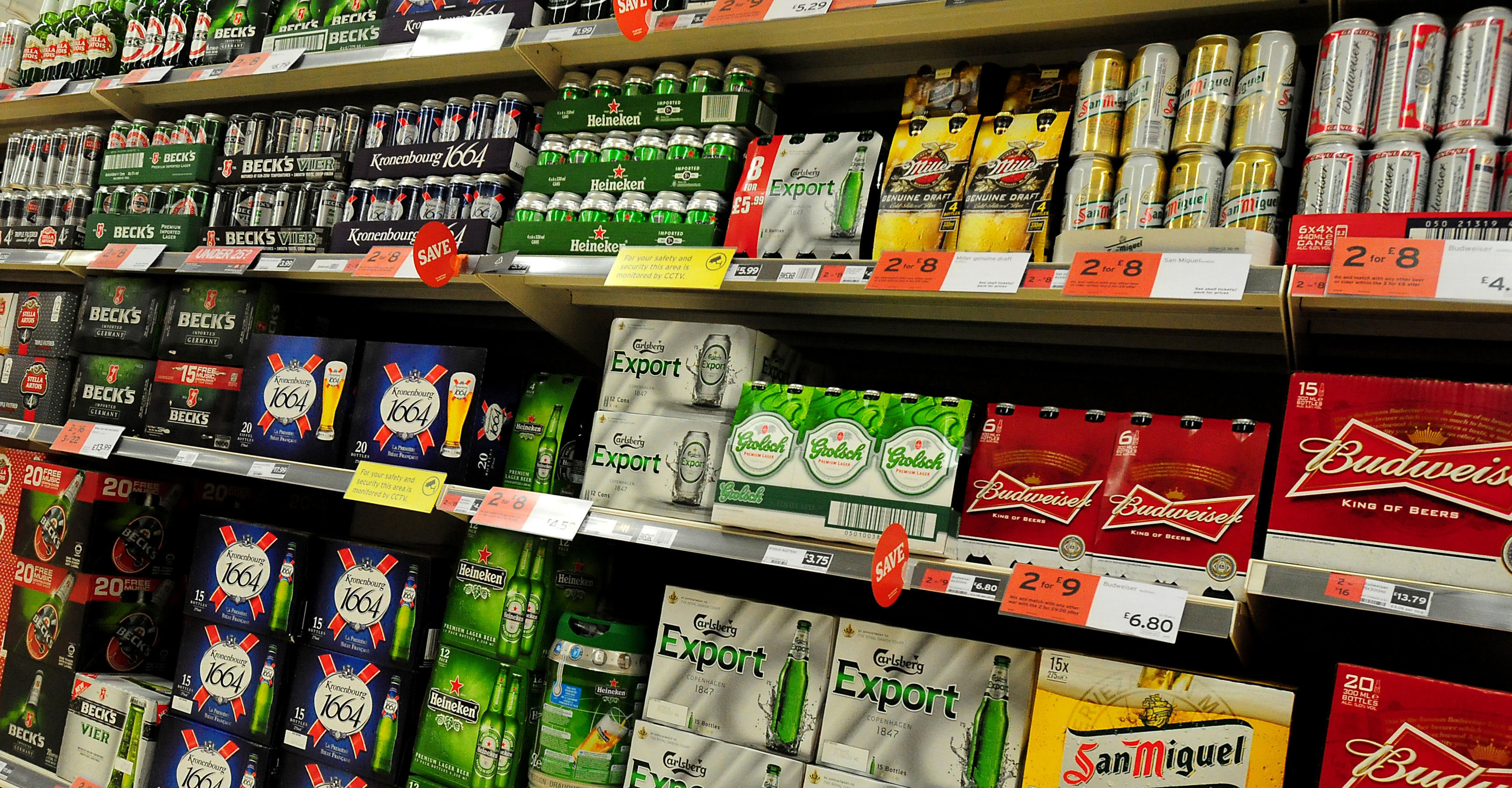 The Scottish Government has faced calls to go further with policies to tackle the issue, including by increasing the minimum unit price and backing further curbs on the marketing or availability of alcohol.
Ms Sturgeon said the government remained "very open minded to policy ideas", adding: "We need to continue to look at how we do more.
"Within the powers of the Parliament its important that we continue to look at where further action can have a positive impact."
Scotland's chief medical officer Dr Catherine Calderwood said: "As a nation we drink 40% more than the low risk drinking guidelines of 14 units per week for men and women.
"Prior to the implementation of minimum unit pricing, those 14 units could be bought for just £2.52. This is absolutely unacceptable.
"That is where this new legislation comes in, and I am confident that over the first five years of its operation, minimum unit pricing will reduce the number of alcohol-specific deaths by hundreds, and hospital admissions by thousands."
Tory MSP Miles Briggs said his party would "await with interest" the impact of the policy.
He said: "The Scottish Conservatives supported the introduction of a sunset clause, so that if minimum pricing proves to be ineffective then it can be scrapped."
Labour's Anas Sarwar MSP welcomed the move but said a "comprehensive, fully-funded strategy to tackle problem drinking" was needed.
He said: "Labour has made the case for a Social Responsibility Levy to claw back the windfall supermarkets could make from minimum unit pricing. This cash could be reinvested in our NHS and in preventative public health programmes."
Green MSP Alison Johnstone and Scottish Liberal Democrat leader Willie Rennie said the government should consider increasing the 50p rate.
Ms Johnstone said: "We're still of the view that Holyrood must revisit the policy in two years' time and consider the possibility of increasing the 50p rate as part of Scotland's continued efforts to reduce the harm caused by alcohol."
Mr Rennie added: "While this legislation will help to discourage the misuse of alcohol, inflation eroded the value of the original minimum price during the years that this policy has been caught up in the courts."
Alcohol minimum pricing: This is how much the new law will cost Dundee drinkers
https://www.eveningtelegraph.co.uk/2018/05/01/scotland-leading-the-world-as-minimum-alcohol-price-introduced/
https://www.eveningtelegraph.co.uk/2018/05/01/qa-scotland-introduces-minimum-unit-pricing-on-alcohol/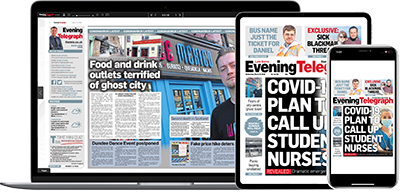 Help support quality local journalism … become a digital subscriber to the Evening Telegraph
Subscribe