A group of Dundee drug addicts have staged a protest against the NHS amid fears they'll die and become just "another statistic".
Danny Blake, 39, from Ardler, stood with 10 other addicts outside Constitution House — claiming that too many addicts were losing their lives because they weren't being supported properly.
The former builder aimed a banner towards the Tayside Substance Misuse Service, asking for "human rights for drug addicts".
Danny, who has used drugs including heroin for a number of years, claims he had his methadone prescription from a pharmacy cut off after a disagreement with staff.
He says he may resort to using other substances to get him through the coming days — and claims this may even put his life in danger.
The addicts say they want more consistent support from health chiefs to tackle their addictions.
Danny said: "We are being treated like second-class citizens.
"There isn't enough help for addicts. I'm aware of as many as 15 deaths of men who haven't had enough help — how many more?
"There are people getting rerouted to Perth to pick up their prescriptions. I've gone from taking 40ml of methadone to taking nothing. It might result in me taking other substances just to get by, which could result in me dying."
Alexander Whyte, a former scaffolder from Kirkton, claims he has been getting his methadone dosage changed regularly, adding: "I've been switched from 120ml to 40ml to 80ml — I'm on 60ml just now from Constitution House and I'm rattling.
"I've got £85 in my hand, which should be going towards my son's mobile phone, but I may have to spend it on drugs."
A spokeswoman for Dundee Health and Social Care Partnership said: "As a partnership, we aim to treat people accessing our service fairly and with dignity and respect. We'd encourage anyone with concerns about their treatment to contact our feedback and complaints team.
"Refusal to give a methadone prescription would never be made easily and would be only after several attempts to minimise the risk to that individual have been unsuccessful and where the risk of death of combining prescribed controlled drugs with illicit drug continued or if the individual stopped taking their methadone.
"It'd be rare that anyone would be banned from our services. However, where criminal activity or violence and aggression to staff or other individuals was to occur, this would need to be considered when reviewing treatment."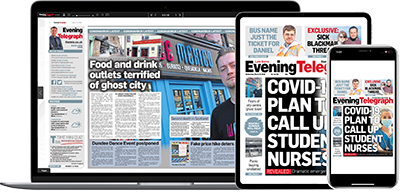 Help support quality local journalism … become a digital subscriber to the Evening Telegraph
Subscribe