Taxpayers forked out £1m to pay for 500 "deliberate" fires in Dundee last year.
According to the Scottish Fire and Rescue Service (SFRS), crews in the Dundee city area attend an average of 500 "deliberate" fires every year.
The service says intentional blazes "present a huge drain" and can tie up resources for long periods which, in turn, can delay firefighters ability to respond to emergency calls.
Whitfield and Fintry are responsible for the highest rate of intentional fires, according to the SFRS.
The service has now launched a joint initiative taskforce with a number of bodies, including Police Scotland and community safety wardens, to try to curb the issue.
The project will involve firefighters and police calling at doors to highlight the serious issues that wheelie bin and grassland fires have on the community.
Firefighters will also visit schools to inform and educate about the dangers of setting fires.
SFRS watch manager John Wade said: "Deliberate fires present a danger to life, property and the environment.
"The Scottish Fire and Rescue Service works closely with colleagues within Police Scotland and the community wardens to identify anyone involved in deliberate fire setting.
"While attending these incidents, fire crews could be taken away from genuine emergencies where lives are at risk. We want to stop fires before they start through education and prevention measures.
"We would ask parents and carers to ensure their children are aware of the potentially tragic consequences deliberate fires can have, as well as the impact for responding emergency services."
Fire chief reveals chemical scare after explosion at Dundee factory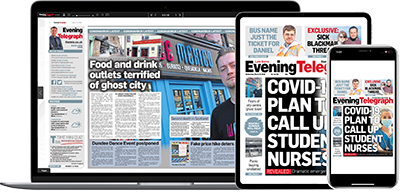 Help support quality local journalism … become a digital subscriber to the Evening Telegraph
For as little as £5.99 a month you can access all of our content, including Premium articles.
Subscribe