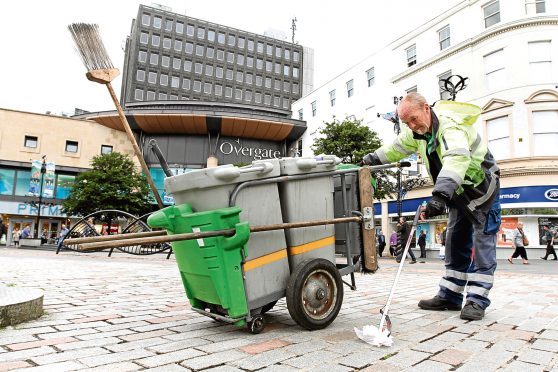 Taxpayers have been forced to hand out more than £47 million to clean up after litter louts in the last four years, the Tele can reveal.
Figures obtained from Dundee City, Perth and Kinross, Angus and Fife councils showed that the four authorities have spent a total of at least £47.7 million on keeping their streets tidy since 2013.
However, this does not include the latest figures for Angus and Fife in the last year, meaning the total is likely to be millions of pounds higher.
The amount each authority has spent relates to actions such as street sweeping, maintaining sweeping equipment, litter prevention, litter picking and cleaning up flytipping waste, chewing gum and graffiti.
However, the amount that councils are spending is in decline.
Dundee's spending has dropped by 21% while Perth and Kinross' has fallen by 8% in the last four years.
The councils that responded to the Tele's requests for comment said they were encouraging people to take responsibility for their waste.
Willie Sawers, Dundee City Council's finance spokesman, conceded the authority had recently made reductions in spending on street cleaning services.
He said: "While every effort is being made to protect essential frontline services, there have been changes in the way services are delivered across the board including street cleaning.
"However, Dundee is still above the Scottish average for cleanliness according to the latest figures. The Take Pride in Your City campaign, backed by the Evening Telegraph, has encouraged people to support our efforts to prevent littering at source and to help in other ways to make our communities pleasant places to live and work."
A spokeswoman for Angus Council said: "Over the last couple of years we have had an ongoing campaign aimed at instilling pride in the local environment. The goal of our Clean Up Angus campaign is to quite literally consign litter, mess and dog fouling to the bin. Cleaning up costs hundreds of thousands of pounds every year to the taxpayer so we want less mess not more costly clean-ups.
"Encouraging people to take responsibility for their own rubbish is key to tackling the issue of litter in Angus and we recognise the importance of prevention which also helps save the taxpayer money."
Andrew Llanwarne, of Friends of the Earth Tayside, said that spending money on picking up litter was to the detriment to other council services. He added: "The problem of litter is an expensive one for local authorities in Tayside to deal with, as well as making our towns and countryside look a mess, thereby reducing our quality of life. It also chokes wildlife and some items are hazardous for people, particularly children.
"Litter is an unfortunate symptom of consumption patterns in our throwaway society. We end up paying to clean up the mess we create, through our taxes, at the expense of other local services."
Bill Newcombe, chairman of the City Quay and Harbour community council, said litter had been a problem in the area and he had asked the council for more bins.
He added: "The more you provide sufficient litter bins and dog fouling bins the more there is a chance of getting people to use them.
"We need to educate people that it's better to put things in the bin. The council would spend a lot less emptying litter bins — it's cheaper than picking up litter."
Ken Gourlay, head of assets, transportation and environment at Fife Council, said: "We would always encourage our residents and visitors to act responsibly."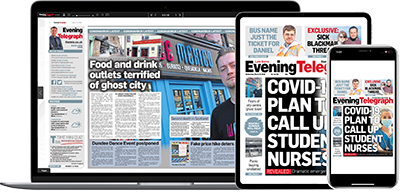 Help support quality local journalism … become a digital subscriber to the Evening Telegraph
For as little as £5.99 a month you can access all of our content, including Premium articles.
Subscribe