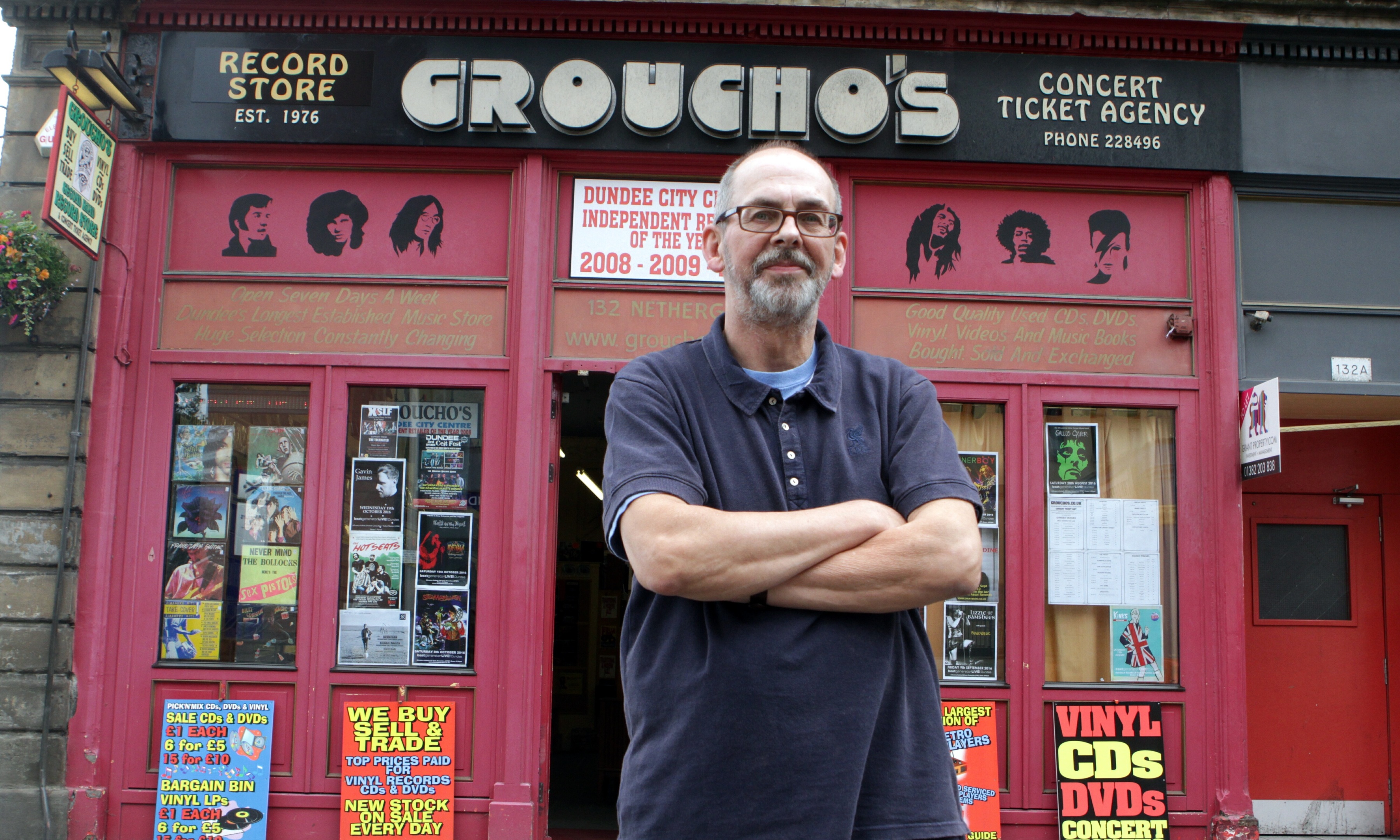 An iconic Dundee music shop is recording its 40th year operating in the city this week.
Groucho's has stood firm as an independent retailer in the city since 1976, spanning three city locations.
Alastair Brodie — known locally as Breeks — told the Tele that Groucho's was born in the middle of an August heatwave.
Alongside Ronnie MacLean, the pair, both aged 22, set it up armed with a record collection and a £500 loan.
Speaking on the eve of the shop's 40th birthday, Breeks paid tribute to customers and staff members.
He said: "Groucho's wouldn't exist without the loyal customers. We need them now more than ever, as city centre footfall drops.
"My greatest pleasure these days is seeing a father or grandfather showing a teenager how to use a record player and handle records with the care and attention they deserve.
"At some point, Groucho's will be no more but the memories will still be there. I have loved every minute of it.
"The people that make Groucho's tick are the staff and family.
"My wife, Stella, is a Dundonian and she made this boy from Edinburgh realise what a unique and important institution Groucho's has become.
"In return, she tells me I've helped widen her knowledge and love of music and show there's more to life than Donny Osmond.
"The staff has rarely changed. Moog has served for more than 30 years, and Frank more than 20 — his nephew, Lee, came to us for work experience and never left.
"Fergus and Matty are proving the next generation are as interested in all forms of music as I was when we kicked off back in August 1976."
The first queue for tickets was for Roxy Music in the early '80s. Groucho's sold the first tickets for DF Concerts.
Subsequently, Groucho's sold the first T in the Park tickets and has sold them every year since, with overnight queues stretching around the street corner a common sight throughout the years.
Groucho's has seen a number of well-known customers pass through its doors in its 40 years, including comic Lenny Henry and Fleetwood Mac's Peter Green.
Breeks said: "Our first 'celebrity' customers were a band called British Lions, made up from ex-members of Mott The Hoople and Medicine Head.
"They had played the Caird Hall the night before. When Groucho's moved to the Overgate, we had numerous well-known customers.
"The Smiths came in a couple of times when they played in Dundee. Johnny Marr still drops in when he can and cites Groucho's as one of the top two record shops in the UK.
"Another favourite was original Fleetwood Mac guitarist Peter Green, one of my heroes, who took time to have a chat and sign autographs.
"We've had members of The Damned, Lenny Henry, Arthur Smith, Liz McColgan, Jerry Sadowitz and Sean Hughes among others. When Deacon Blue were topping the charts, Ricky Ross was filmed in the shop talking about his old haunts in Dundee."
Despite selling music spanning all genres, the shop has never stocked a Bay City Rollers record.
Breeks said that they even have an amnesty box where people can hand in records to be "destroyed for the good of mankind".
He added: "We were even visited by ex-Roller Eric Faulkner, who was happy to pose with the amnesty box, although I believe lead singer Les McKeown wasn't too chuffed."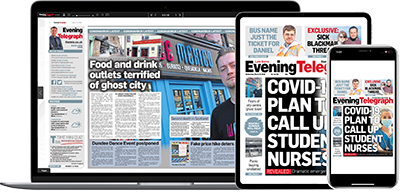 Help support quality local journalism … become a digital subscriber to the Evening Telegraph
Subscribe