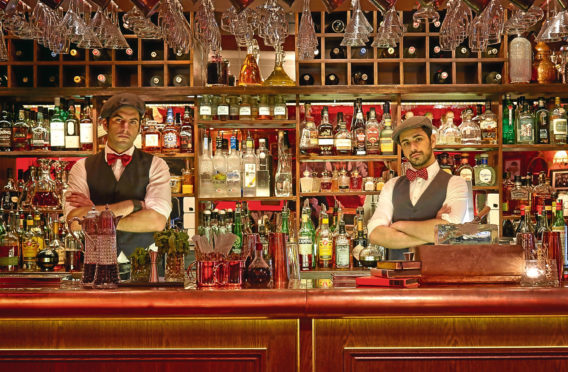 Plans to bring a new 1920s-style "speakeasy" nightclub to Dundee have been approved by the city's licensing board – during a light discussion in which the applicant was compared to Chicago gangster Al Capone.
City businessman and pub guru Jimmy Marr had asked for permission to convert the basement of 172 at the Caird on the Nethergate into a speakeasy modelled after a similar establishment in London called Bart's.
Janet Hood, representing Mr Marr at the meeting of the licensing board on Thursday, said the speakeasy would target customers aged 25 and over, and that it would feature hot food, cocktails and non-alcoholic options such as mocktails and soft drinks.
During the day, it will act as an overspill area for the 172 at the Caird, during which time children will be allowed to eat. However, the area will be closed to under-18s at night.
The new venue will open until 3am on Fridays and Saturday – but will charge a £3.50 entry free after 12am.
Ms Hood added: "There are no nearby residents, as the venue is at the heart of the university and student quarter.
"We anticipate that people will drift away towards the end of the night. There won't be a huge exodus at the end of the night."
Councillor Brian Gordon jokingly asked Ms Hood whether, with the addition of a Prohibition-style speakeasy to Dundee, the licensing board would have to introduce its own Eliot Ness – the American agent who brought down Al Capone.
Laughing at the joke, Ms Hood retorted that her client was unlikely to be compared with Capone, adding: "My client pays all of his taxes."
The application was passed with no objections from Police Scotland.
Jimmy Marr previously told the Tele "he was "really excited" at the plans.
He said: "I want it to be a 1920s speakeasy-style bar, similar to one I have seen in London.
"It will be a really select late-night venue.
"There will be lots of cocktails on offer and a small dance floor."