A Dundee travel boss has said the city has a "promising future" in the booming cruise industry.
Robert Mason, head of cruise at travel firm Capital Cruising, told the Tele the city was likely to enjoy large economic benefits as the industry continues to grow.
Dundee welcomed its first ship of the season this weekend as the Pacific Princess made a stopover with 670 passengers on board.
And Mr Mason said he is expecting another 13 ships this year — having welcomed a grand total of two this time a decade ago and just six in 2015.
He said: "Dundee has a lot going for it at the moment.
"In 2014, it was named as the UK's only Unesco City of Design, there's the £1bn Waterfront, the V&A — a lot of development that underpins our efforts to sell the city.
"We want people to feel excited and the city is getting thousands of pounds of economic benefit.
"That benefit could be up to £100 per visiting passenger and £400 for a turnaround passenger — and you've got crew to think about too.
"There are taxis, buses, tour operators, restaurants, local businesses, even hotel accommodation if people decide to visit again in future."
In his eight-year tenure with Capital Cruising, Robert has seen the industry go from strength-to-strength and said next year is already looking busy.
He said: "We've already got 12 booked for 2018. There's an upwards trend.
"Half of the calls are actually people going on holiday from Dundee – there's that attraction of getting on a ship on your doorstep, instead of getting a plane to Southampton."
In his role, he and his team make frequent visits to trade shows across the world, where they promote Dundee as an ideal visitor destination to cruise firms who often plan out itineraries years in advance.
Back home, the firm also works with local trading organisations, travel firms, colleges and business groups to ensure Dundee benefits from each visit as best as it can.
Mr Mason added: "What we're doing on the ground is working with the council, groups like DD One and the Broughty Ferry Traders Association and getting student volunteers from Dundee and Angus College to welcome people off the ships.
"We want visitors to enjoy that local area essence and get a great experience of the city — we want to bridge the gap between the port and the destination."
"As well as promoting the city as a stop-over destination to cruise firms, Capital works to promote Dundee's port as an attractive place to stop.
"From an operational perspective, the city's open port allows ships to dock quickly and easily — which can be attractive to firms which make a lot of stop-offs.
"We're doing a lot of work at the moment to welcome larger ships as the capacity is definitely there.
"Ships can get alongside the port in Dundee and don't have to come in through an entrance.
"It's very attractive for a ship to come in and berth alongside in what is essentially the heart of the city. We're going out there and pushing Dundee — cruise firms take 36 months or so to decide their itineraries, so it's a long lead-in time.
"We can say we've got a very good offering that we can promote to these executives – we can tell them where the ship will go and what we do with the passengers when they arrive. But that work is ongoing so we're pushing 2019 at trade shows now.
"It's going to be worth thousands of pounds to the city each time – and the ports too, between the security, volunteers and local businesses. There's definitely a real upswing in the market in northern Europe, and we're capitalising on that."
But what is it that is making cruising such an attractive proposition to holidaymakers from Dundee and beyond?
Mr Mason believes that — as well as a number of special offers promoted by travel agents — there are a number of other reasons that cruises are back in style.
"There's a few reasons — you don't have to worry about baggage limits, you can travel with friends and family.
"There's the strength of the pound as well, since you can pay in sterling on board, and the places you can see.
"It's more accessible to new tourists now as well — we've even had people book their second cruise while they're still on their first."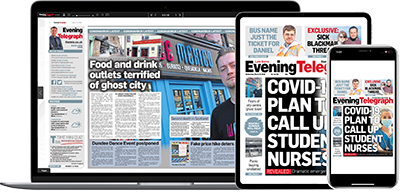 Help support quality local journalism … become a digital subscriber to the Evening Telegraph
Subscribe