Developers are poised to spend more than £11 million on two key parts of the controversial Site 6 scheme at Dundee's Waterfront.
Architect Cooper Cromar and construction firm Robertson Living have submitted requests to the city council to start work on the northern and eastern edges of the complex opposite the V&A.
The firms expect to spend £7.4m on the six to eight-storey eastern block, which will have five retail units on the ground floor and 55 flats above, overlooking Slessor Gardens.
And they will invest more than £4.2m in the five-storey northern block, which will have space for another 42 apartments.
Lynne Short, convener of the city development committee, said momentum around the Waterfront was now growing.
She said: "It is starting to pick up – especially with more and more planning applications being made and discussions being had.
"This is just another step in the process along the way of it starting to take shape."
Site 6 has received a mixed reaction from the public, with many people critical of the fact it will block views of the V&A from some vantage points.
At the start of this year, when work began on an office block on the site, a petition was launched calling for the project to be scrapped.
It was also panned by BBC arts editor Will Gompertz, and Pretenders singer Chrissie Hynde, who criticised it during her band's gig at Slessor Gardens. However, Ms Short believes that as more of the Central Waterfront takes shape, the public will come round.
"A lot of people didn't like the V&A when the construction first started – but then took to defending it," she said.
"There will be a time with these buildings, too, that people start to take ownership of them. I think as it all takes shape people will start to feel more comfortable with it."
Last month, the Tele revealed the council plans to invest £20m in the hotel directly opposite the V&A. The 150-room development will be operated by Marriott Hotels under its AC brand, and feature a restaurant, bar, conference facilities and a gym.
Martin Findlay, managing director of Living by Robertson, said: "As it's still early in the Building Warrant process, we can only say at this stage that we hope to start construction in 2019.
"As soon as the necessary permissions are in place, we will be able to share visuals which we hope local people will find very tempting."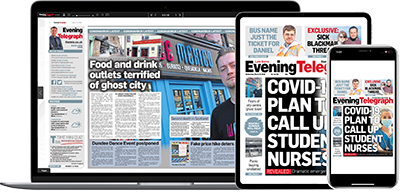 Help support quality local journalism … become a digital subscriber to the Evening Telegraph
For as little as £5.99 a month you can access all of our content, including Premium articles.
Subscribe