Receptionist Cindy Findlay is £10,000 richer after scooping the Tele's Golden Wallet jackpot.
The 55-year-old, from Kirkton, said she is "over the moon" with her win – which came as a total surprise as she had forgotten that she had entered.
Cindy's name was pulled out during a live draw on the Tele's social media channels.
After the Golden Wallet prize originally went unclaimed, readers were offered another chance to win.
They were asked to complete entry forms which appeared in the Tele last Friday, with a deadline of Wednesday.
The draw was shown on our Facebook page on Thursday when Cindy was declared the winner.
Although she missed the live announcement, a member of our team personally delivered the news to her – and Cindy said she had no idea why the Tele was calling.
She said: "I genuinely could not believe it when I heard it – even when I was being told I was just gobsmacked. I was at work and came home to see that there had been messages left by someone at the Evening Telegraph.
"I just thought, 'I wonder what they want?'
"I phoned the lady back and she just calmly told me that I had won the £10,000.
"I am absolutely over the moon. I am genuinely shocked to have won – I really never win anything.
"And I had genuinely forgotten all about it because I entered at the second chance just to give it a go. I was just so taken aback."
Cindy, who has worked as a receptionist for Thorntons Solicitors for 17 years, was one of the thousands who entered the competition.
She is now planning a sunshine holiday to Tenerife in the near future, but will first be putting the money towards revamping her living room.
She added: "The first person I told was my brother Gordon and he just didn't believe it either. He was delighted.
"I think I'll be looking to go on holiday, probably to Tenerife, so I'll maybe take him with me.
"My Jack Russell, Finn, will also go to the best kennel now when we're away.
"But the first thing I want to do is get my living room done up and buy a new settee. I don't need to worry about that now, which is great. I was lying in bed just thinking about everything I could put the money towards and there were just so many things.
"You just don't think about these things because you never expect to win."
Cindy added: "I had seen that the prize had gone unclaimed and it really just was one of those things where I thought 'why not?'
"My bus to work goes past the DC Thomson building anyway so it was just a case of popping in and dropping off the entry form.
"I honestly forgot about the whole thing and I was just in total shock to find that I was actually the winner."
Everyone was a winner in the Tele's competition, from cash prizes to a Wispa Gold.
And while Cindy will be spending her money in the sunny climes of the Canary Islands, a wild weekend splashing the cash is not on the cards.
She added: "I am actually going on a walking tour this weekend which I have had booked up for a little while.
"So I will be celebrating my win on a historical tour in the Howff. What better way to spend it?"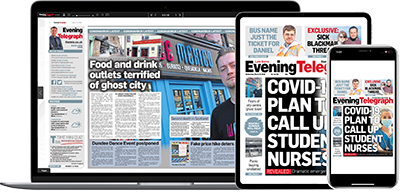 Help support quality local journalism … become a digital subscriber to the Evening Telegraph
Subscribe