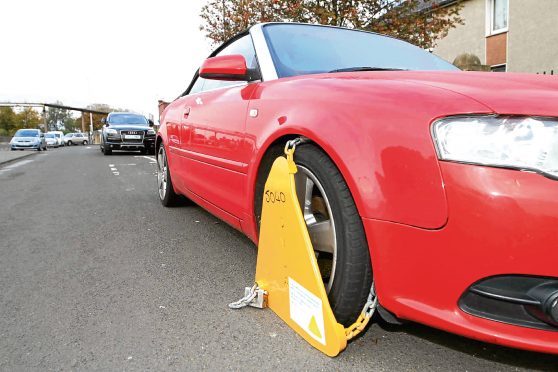 More than 100 vehicles were clamped by road tax enforcers in just a month as part of ongoing action in Dundee.
Since May 15 the Driver and Vehicle Licensing Agency (DVLA) has immobilised 103 motors across the city, and since then just 65 owners have paid their vehicle tax, meaning they have now been unclamped by the agency.
But a total of 38 vehicles remain locked in position at the side of road as their owners haven't coughed up.
A DVLA spokesman said that despite the figures it was a minority of owners who didn't pay tax.
He added: "It's an offence not to tax a vehicle before it's driven on the road.
"While DVLA does tell drivers when their tax is due by sending reminders and last chance notices, action will be taken against those who don't tax their vehicles — otherwise it wouldn't be fair on those who do the right thing.
"Nearly 99% of vehicles on the road are taxed correctly, so the overwhelming majority of motorists pay their tax."
Ray Brewer, of CP Garage Services, based at Baluniefield Industrial Estate, said he believed some owners would not see the point of taxing their cars if they were bought cheaply.
He said: "I think some of these people buy a cheap motor to run around in and if they get caught by the DVLA they don't care if it gets scrapped.
"If you've bought a cheap car for £100 you aren't going to spend another £200 on tax and MOT on top of that."
And Ray thinks vehicle tax will become less important in the future as more environmentally-friendly cars hit the market.
He said: "They will slowly be less relevant as a lot of new cars now have no road tax or lower tax.
"I think a lot of people actually forget about their road tax now it's not on their windscreen.
"I think they should bring back the paper tax discs. They have them in other countries in Europe.
"In America they actually have a sticker at the side of the number plate."
In a five-day period in August last year, the DVLA also clamped 87 untaxed cars.
Motorists caught have to pay a release fee of £100 and, if they can't show the vehicle has been taxed, a surety fee of £160.