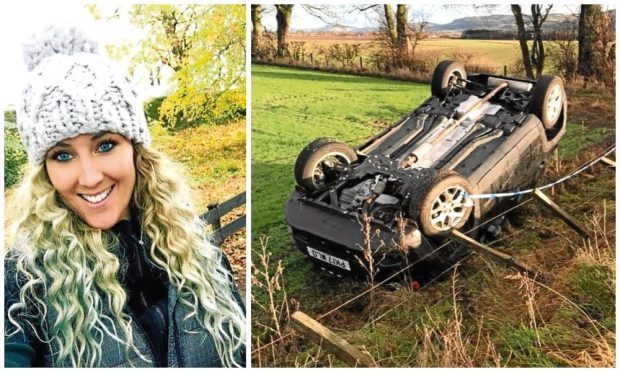 A Dundee woman whose dad died in a car crash has told of the "miracle" which saw her walk away unscathed after flipping her vehicle.
Sheli McCoy was travelling home after visiting friends near Bridge of Earn when her four-week-old jeep "flew" off the road after skidding on black ice before somersaulting into a field.
The Menzieshill woman said it was "unbelievable" that she hadn't been killed.
She said: "The car skidded on the road and then knocked down a fence — at that point the vehicle was completely airborne.
"There was nothing I could have done — it was 100% a miracle.
"I just held on to the steering wheel as tight as I could.
"Everything just went completely still and I was upside down in the car.
"Then the roof caved in. It was like that scene in the film Titanic when you hear all the cracking before the ship splits in half.
"That's when I thought to myself, 'this is serious'."
Sheli said she managed to release her seatbelt but found mud and debris were blocking her exit.
She crawled to the opposite side of the jeep and kicked the window out. She then managed to escape from the wreckage.
Sheli said she phoned her brother for advice and then alerted police.
She said that the incident had extra personal significance because her dad — a sergeant in the army — was killed in a car crash when she was three.
She added: "I have always felt like a daddy's girl.
"I don't believe in fate and things like that but he must have been watching over me.
"Afterwards, I was going round all my friends I hadn't seen for a while. I am just so grateful to be alive."
Returning to the scene the next day, Sheli said she found that her vehicle had narrowly missed splitting a power line.
She said an electricity worker told her that she was lucky not to have died.
Human performance specialist Sheli owns Complete Phyzique — a service which includes coaching, personal training and physiotherapy — and thinks being a crossfit athlete meant that she was equipped to deal with the situation.
Miraculously, her only injuries as a result of the accident were whiplash and a cracked tooth.
She is set to compete in the European Crossfit Championships at the end of this month.
Sheli previously worked at Functional Fitness Dundee and plans to open a gym in the near future.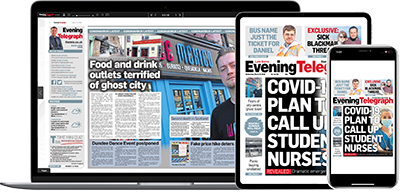 Help support quality local journalism … become a digital subscriber to the Evening Telegraph
For as little as £5.99 a month you can access all of our content, including Premium articles.
Subscribe