Shocking new statistics reveal an average of 10 people every day are turning up at A&E in Tayside for alcohol-related injuries.
The admission rates, described as "very worrying" by national charity Drinkaware, soared to 3,651 people last year – almost 500 more than the total for 2016/17.
Those being treated include patients suffering from alcohol poisoning as well as victims of accidents, violence or crime.
NHS Tayside said the accident and emergency department at Ninewells Hospital in Dundee is being put under extra strain by drunk patients who are "frequently disruptive and uncooperative".
The health board's consultant in emergency medicine, Dr Neil Nichol, voiced frustration at the rise.
He said: "The effects of alcohol misuse are felt across the community and alcohol-related attendances at A&E have increased from last year.
"Intoxicated people take up a substantial amount of ambulance service and police time, when these services are already under pressure.
"In the emergency department, intoxicated patients are frequently disruptive and uncooperative, distracting staff from caring for other patients and causing distress to other patients."
The figures, released by NHS Tayside through freedom of information legislation, also reveal 40 people died in its health facilities from alcohol-related causes last year.
Dr Nichol added: "In the longer term, the risks of continuing to drink too much include dependence, mental health problems, high blood pressure, heart disease, stroke, liver disease and various cancers.
"Drinkers should try not to exceed the recommended daily guidelines of two units a day for women and three units for men and try to keep two consecutive days alcohol-free each week."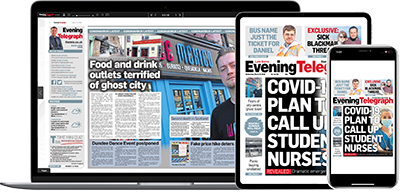 Help support quality local journalism … become a digital subscriber to the Evening Telegraph
For as little as £5.99 a month you can access all of our content, including Premium articles.
Subscribe