Workers at delivery firm Deliveroo went on strike on Wednesday in a dispute over pay and conditions.
Socially distanced protests were held in cities including London, York, Sheffield, Reading and Wolverhampton.
The Independent Workers' Union of Great Britain (IWGB) said its members are calling for decent pay as well as improved employment rights and safety protections.
The union said supportive action was expected in Australia, France, the Netherlands, Ireland and Spain.
The action follows recent campaigns by those in the gig economy to be classed as workers and so receive better pay and conditions.
Unions won legal action recently against ride hailing firm Uber.
Alex Marshall, president of the IWGB and a former bicycle courier, said: "Deliveroo presents a false choice between flexibility and basic rights but the Uber ruling showed that, here as well as abroad, workers can have both.
"That is the least they deserve and what the public expects for our frontline workers."
Greg Howard, a Deliveroo rider and an official of the IWGB, said: "I'm going on strike for my basic rights and those of all the other riders struggling to get by and support families on Deliveroo poverty pay.
"I've seen conditions decline for years and then working through lockdown I contracted Covid-19 and got very little support.
"After the pandemic more people than ever understand this exploitation is no way to treat anyone, let alone key workers."
Full trading in Deliveroo shares began on Wednesday, although some investors have voiced concerns over workers' rights.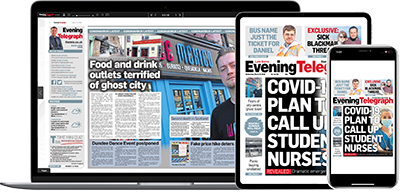 Help support quality local journalism … become a digital subscriber to the Evening Telegraph
Subscribe