Licensing for short-term lets in Scotland could put 17,000 jobs at risk, according to research commissioned by Airbnb.
The Scottish Government has announced that landlords who use their properties for Airbnb-style short-term lets will need to apply for a licence from the local authority.
Councils will also be able to introduce "control areas" to restrict or ban short-term lets if concerns are raised about the impact they are having.
Research for the Scottish Government found that in May 2019, there were just under 22,100 active listings of whole properties on Airbnb in Scotland, with 50.5% located in Edinburgh or the Highlands.
But economic analysis commissioned by Airbnb found the licensing proposals could take £1 million a day out of the Scottish economy and potentially jeopardise up to 17,000 jobs.
The analysis, by independent consultancy BiGGAR Economics, suggests the potential job losses would be the equivalent of increasing Scotland's unemployment by 0.6%.
BiGGAR Economics director Graeme Blackett said the economic impact – an estimated £338.5 million reduction per year – is based on a projected 50% fall in the number of nights spent in Scottish properties let through Airbnb.
He said: "Airbnb users are making a substantial contribution to Scotland's economy by spending money in local communities, and the study has also provided insights on how the economic impact is distributed across the country.
"The contribution that travel on Airbnb makes to the Edinburgh tourism economy was no surprise, but we were struck by the significant contribution that is being made to the most tourism-dependent economies such as the Highlands."
Airbnb's director of public policy Patrick Robinson said: "These proposals will put jobs at risk, price Scottish families out of hosting, and shift tourism pounds away from those that rely on the income to help make ends meet.
"We want to find a balanced approach and work with the Government to regulate short-term lets while protecting livelihoods, ensuring we prioritise the needs of local families who need the additional income most and who are the beating heart of Scottish hospitality."
Housing minister Kevin Stewart announced last month that local authorities would have up until April 2022 to introduce a licensing system.
He also said the Scottish Government will bring in new laws if the licensing scheme fails to tackle problems linked to short-term lets, and insisted ministers had taken a "proportionate but fair" approach to the issue.
He said the proposals "allow us to make progress in this Parliament to address a pressing issue for some of our communities".
But he added the changes will "not unduly curtail the many benefits of short-term lets to hosts, visitors and the Scottish economy".
Mr Stewart said: "Short-term lets can offer people a flexible and affordable accommodation option, and they have contributed positively to Scotland's tourism industry and local economies across the country.
"However, we know that in certain areas, particularly tourist hotspots, high numbers of these arrangements can cause problems for neighbours and make it harder for people to find homes to live in.
"Our proposals will allow local authorities and communities facing the most severe pressures to take action to manage those more effectively from next year."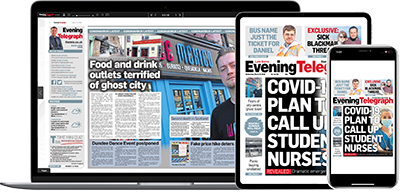 Help support quality local journalism … become a digital subscriber to the Evening Telegraph
Subscribe