Nicola Sturgeon has vowed to increase Scotland's testing capacity as coronavirus cases and deaths continue to rise.
The First Minister said the Scottish Government's strategic framework for tackling Covid-19, which will be published on Friday, will outline a new testing strategy that will see results returned faster.
The latest Covid-19 figures show 17 deaths and 1,712 positive tests have been recorded in the past 24 hours.
The number of people in hospital has increased by 55 to 928, with 74 patients in intensive care.
Speaking during the daily briefing on the virus, Ms Sturgeon said the R number in Scotland – the average number of people each person with Covid-19 goes on to infect – is currently "perhaps as high" as 1.5.
Scotland already has a target of increasing testing capacity to 65,000 a day by the end of this year.
Ms Sturgeon said to achieve that, at least 10,000 more Scottish tests would need to be analysed by UK Government Lighthouse labs while the NHS laboratory capacity will increased by an additional 22,000 tests a day.
Three new regional hubs are being set up in Grampian, Lothian and Greater Glasgow and Clyde, she said.
"Contractors are already carrying out building work for these hubs, installation of equipment is progressing at pace and so is staff recruitment," she said.
"We expect these to be up and running in the next few weeks."
The First Minister said the new hubs will undertake all of the routine testing for care homes and that will help get results back "more quickly then we sometimes do now".
Ms Sturgeon also said the Office for National Statistics is to publish the initial results from a coronavirus survey in Scotland on Friday.
"The survey estimates how many people in private households were infected over a two-week period of time," she said.
"The results published tomorrow will cover the two weeks up until last Friday."
She said high levels of participation in the research means it is being published earlier than expected, adding the research will show how many people have coronavirus antibodies "which indicates how many people were likely to have had the virus previously".
The First Minister also spoke about £2 million of Scottish Government funding that has just been announced to help residential outdoor education centres.
"We know the outdoor education sector has had a really tough time," she said.
Overnight stays at such centres are not currently allowed, with centres having gone to "great efforts" to allow for some activities to take place.
Ms Sturgeon said she is "pleased" to have been able provide the extra cash, and added: "I know this won't address all the difficulties the sector faces but I hope it will provide some additional reassurance to managers and staff in these centres."
The First Minister also told the briefing that guidance will be issued this weekend about Halloween.
She said: "It's not safe right now to do these things as normal, and it would not be fair of me or right of me to say otherwise.
"To parents, to children; think of ways you can celebrate in a way that is safe and doesn't have children or others coming into unnecessary contact with others."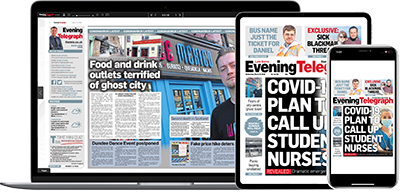 Help support quality local journalism … become a digital subscriber to the Evening Telegraph
Subscribe