Allegations of sexual and physical abuse migrated children faced in Australia "would have been common knowledge", the Scottish Child Abuse Inquiry has heard.
Speaking at the inquiry, Gordon Lynch, a professor of modern theology at the University of Kent, said that in his research he found that a number of sexual offence concerns and physical concerns were raised by visiting government officials.
He told the inquiry that in October 1942, British high commissioner Sir Ronald Cross visited a number of the institutions which took in migrated children in Australia.
He reported that he was taken aback by the condition many of the boys in the Christian Brothers Agricultural School in Tardun were living.
He said the boys had the appearance of "ragamuffins" and were running around shoeless in dirty clothing.
The school reportedly had boys so crammed in that spare beds were placed on covered balconies to fit everyone in.
He reported all those concerns to the Commonwealth government in Australia.
Dr Lynch said: "After a cottage mother raised some serious concerns in a letter from The Lady Northcote Farm School, William Garnett, the secretary to the UK high commissioner in Australia, visited the school in 1943.
"A letter he'd received from one of the cottage mothers made a number of allegations over things that had taken place there.
"So he decided to take a direct visit to the institution and after some conversations with the organising committee, found there were a number of problems both with the management but also there had been a case of either one or two local school teachers who'd been charged with sexual offences against girls in the school."
However, the complaints were put down to poor management from the then head, Colonel Heath.
Colin MacAulay QC, lead senior counsel, said: "He was someone who had come to Northcote Farm School because there were problems in what was seen as the discipline of the children.
"Former older boys of the farm school were coming back and being found in bed with the girls. There were health problems, problems with them being placed into work – they were all just attributed to failures in his management."
Dr Lynch agreed, adding there were also reports of young girls, under the age of 16, becoming pregnant and being expelled from the school.
He said: "All reports would have been common knowledge to the Commonwealth."
However, when asked by Judge Lady Smith what the UK government could have done, Dr Lynch said withdrawing funds was the only option, which would have negatively impacted children.
The inquiry, before Judge Lady Smith, continues.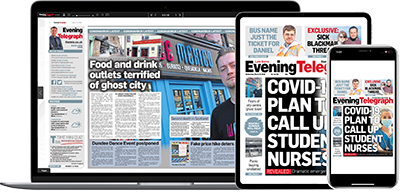 Help support quality local journalism … become a digital subscriber to the Evening Telegraph
Subscribe