MSPs have accused the Scottish Government of failing to deal with a "shambles" at the public organisation for promoting the Gaelic language.
Widespread problems and organisational failures were identified at the publicly funded Bord na Gaidhlig in an audit report last year.
MSPs heard that numerous concerns were raised about Bord na Gaidhlig providing inaccurate information, its financial stability, poor levels of scrutiny, a lack of transparency with staff and the board not understanding their roles.
Facing questions from Holyrood's Public Audit Committee, Bord na Gaidhlig's chief executive and chairwoman both said the quango had made "significant progress" improving the organisation.
But during the evidence session – described by convener Anas Sarwar as "very robust", and "extraordinary" by MSPs Adam Tomkins and Graham Simpson – concerns were raised about the apparent failure of the Government to identify and act on the problems faced.
Neither of the Scottish Government witnesses, who have a responsibility for the public funding awarded to the organisation, were able to identify any of the key performance indicators that could identify success or failure within the organisation.
Mr Simpson said the Gaelic team in the Scottish Government, led by Douglas Ansdell, "didn't keep a grip on what was quite clearly a shambles".
He added: "I am astonished that the Scottish Government can come here and not tell us what they expect from Bord na Gaidhlig."
Mr Tomkins said the organisation's progress was from a "very low bar" and some of the errors described in the audit report "are so basic that frankly they beggar belief".
The Scottish Government's education director Paul Johnston told MSPs he was "concerned" by the 2018-19 audit and said: "It was very clear that a significant programme of improvement would require to be undertaken with pace and urgency in order to address the issues raised."
Mr Johnston said the board was being "drowned in the detail of pages and pages and pages of improvement plan commentary".
However, Mr Sarwar pointed out that report was 18 pages long and said: "I don't think a worry about them drowning in the paperwork is really an adequate reason for having inaccuracies and not having confidence in how the board is operating, so just I don't buy the argument.
"I'm not willing to accept that Bord na Gaidhlig is drowning in an improvement plan when in actual fact it looks like is drowning in the detail of a failing organisation, which should be a much bigger concern to the Scottish Government."
Mr Sarwar also questioned why the Scottish Government had stopped attending board meetings.
It was also revealed that three people had come forward with concerns about the running of Bord na Gaidhlig before the critical audit report.
SNP MSP Alex Neil asked why the Scottish Government did not intervene earlier and had allowed it to "get into such a mess" before acting.
Mr Johnston suggested the Scottish Government had been "very involved", and Mr Neil said: "That makes it worse because clearly this organisation was allowed to get to crisis point before the corrective action was taken.
"Surely the Scottish Government should have been more decisive?"
Concluding the meeting, Mr Sarwar said: "I do think we are leaving the session with a lot more questions around the role of the sponsorship team, and the Scottish Government's oversight of Bord na Gaidhlig."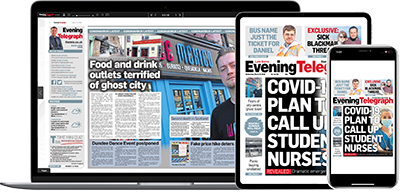 Help support quality local journalism … become a digital subscriber to the Evening Telegraph
Subscribe