Scotland has recorded its highest daily rise in positive coronavirus cases.
A total of 486 people have tested positive for Covid-19 north of the border in the past 24 hours, bringing the total number of cases to 25,495.
Two deaths have also been recorded in the past day, meaning 2,508 people have now died after testing positive for the virus.
But figures released on Wednesday from the National Records of Scotland – which account for all deaths registered in Scotland where Covid-19 was mentioned on the death certificate – show the true number of fatalities stands at 4,247.
First Minster Nicola Sturgeon gave the latest coronavirus figures a day after announcing new restrictions to combat the rise in cases.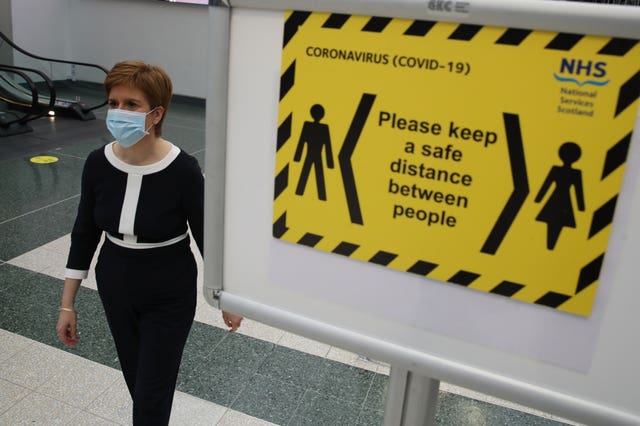 From Friday, measures banning people from visiting other households will come into force and pubs and restaurants will be required to close by 10pm.
Speaking during the Scottish Government's daily briefing, Ms Sturgeon said the rise in cases is a "real cause for concern" that underlines "why we took very decisive and very tough action" to try to get the virus back under control.
She added: "That is the highest number of positive cases we have ever recorded in a single day. However for context it must be remembered that many more people are being tested now than was the case in the spring.
A total of 224 of the new cases are in Greater Glasgow and Clyde, where Ms Sturgeon said there has been a significant outbreak at the University of Glasgow.
Addressing clusters at a number of universities, the First Minister said student life lends itself to spreading the virus.
She said "tough guidance" is currently in place and discussions are ongoing about what else may be needed.
Appealing directly to students, she said: "If you are asked to self-isolate, and I know many of you are already in that position, it is really important that you follow that advice.
"From me, for now, please know that we appreciate the sacrifices you're making at this really important stage of your lives.
"It's not yesterday that I was at university, but I still remember what an important stage of life it is and nobody wants you to be living under these restrictions, but it is important that you take care not to put yourselves at risk and obviously not to inadvertently put other people at risk.
"What we're asking you to do now is for the collective good of everyone, but we do appreciate your sacrifices and thank-you for it."
The First Minister also said Scotland should not be "hamstrung" by the UK Government when tackling coronavirus.
She said she will be writing to the Prime Minister asking for an extension of the furlough scheme or an extension of powers to the devolved administrations.
She said: "We mustn't be hamstrung in essential public health decisions by the lack of necessary economic mitigations.
"All four UK nations agreed a joint statement to the effect that we would focus our efforts 'on suppressing the virus to the lowest possible level and keeping it there', and that is really positive.
"It puts aside forever the idea that we can just let this virus run, because we know it does real damage in lives and in health.
"There is an argument… that all of us across the UK should actually be doing even more right now and there is a danger that what starts to hold us back is not the public health analysis but financial limitations."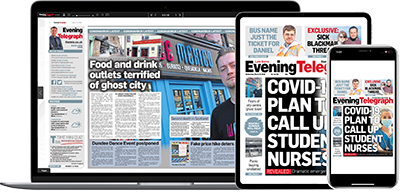 Help support quality local journalism … become a digital subscriber to the Evening Telegraph
Subscribe