Jeane Freeman will warn care homes that the new coronavirus restrictions do not ban relatives from visiting their loved ones.
The Health Secretary also told MSPs she is "actively looking" at allowing care home residents to be allowed longer and more frequent visits.
Ms Freeman said some care homes had reportedly stopped allowing visitors, blaming the latest restrictions imposed by the Scottish Government.
However, Ms Freeman insisted "nothing could be further from the truth", and said she would write to all of Scotland's care homes to stress visiting has not been banned.
Asked about concerns from family members facing visiting restrictions and difficulty seeing relatives, Ms Freeman said she has asked the head of Scottish Care Donald Macaskill to "make clear" to care homes there are no additional restrictions.
She said: "I intend to write to all care homes again – as I did before around the question of testing – to remind them that the restrictions introduced yesterday do not impose additional restrictions on care home visiting.
"On the contrary, part of what we are trying to do with what the First Minister said yesterday is to not only keep education open, but to protect and keep our care homes open for visiting."
She revealed approximately 40% of care homes are now eligible for indoor visiting because they meet the criteria of being clear of coronavirus for 20 consecutive days and have staff tested weekly for Covid-19.
Outdoor visiting is still allowed at care homes not yet eligible for indoor meetings.
Ms Freeman also said she has spoken with campaigners calling for improved access to care homes for the relatives of residents.
She said she wants to "increase indoor visiting in terms of length of time you can visit and frequency".
She added: "We are actively looking now, with our clinical and professional advisory group, to see how we can do that – because I do want to be able to do that – in a way that continues to protect the residents."
She added that she wants to see family members allowed to spend more time with relatives in care homes, "to eat with them and to have a kind of normal visiting, or as close to that as we can possibly manage".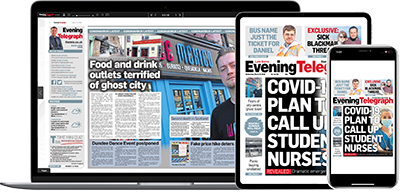 Help support quality local journalism … become a digital subscriber to the Evening Telegraph
Subscribe