A new environmental body faces having its credibility undermined if the Government refuses to allow it to scrutinise climate change policies, MSPs have warned.
The Scottish Government plans to create Environmental Standards Scotland (ESS) to replace the EU's oversight of environmental law after Brexit.
But MSPs on Holyrood's Environment, Climate Change and Land Reform Committee raised "a number of serious concerns" about the Government's post-Brexit continuity Bill that aims to align Scottish and EU laws once the transition period ends on December 31.
Although the committee offered its support for the Bill's general principals, it urged ministers to make a range of changes at stage two of its progress through Parliament.
The committee wants climate change policy to be included within ESS's remit, despite the Scottish Government's protestations that "there is no need for an additional institutional voice" keeping track of the setting and monitoring of targets.
The committee's stage one report expresses "serious concerns" in areas such as the "powers and independence of ESS".
It said: "The committee considers that there is an issue of credibility, and a significant reputational risk to ESS, for its remit not to cover the core public policy targets driving Scotland's response to the climate crisis.
"The committee highlights the seriousness of the climate emergency and the need to ensure that climate governance is robust.
"Having considered this issue and the available evidence, the committee recommends the exemptions in relation to climate change are removed and that this forms part of the responsibility of the ESS."
Fears about the independence of ESS – which the Government says will be a "non-ministerial body" to ensure public organisations apply environmental law – were also flagged.
The committee's report adds that MSPs are "not yet convinced that a non-ministerial office would provide ESS with sufficient distance and autonomy from the Scottish Government", and there could be "little scope for genuine parliamentary influence".
The Bill would give ministers discretionary powers to align laws with the EU, and the committee called for assurances about Government transparency and accountability.
While acknowledging Constitution Secretary Mike Russell has provided details about a "matrix of issues" informing ministers whether or not to align, it does not reference a commitment to maintain environmental standards, the climate emergency or climate targets, MSPs noted.
They also suggested that if the Bill is passed, a minister should report to Parliament every two years at the least about developments in EU environmental law, whether it has been matched in Scotland, and if not, why not.
On the issue of the UK Government's plan for an internal market, the report adds: "The committee considers there is a strong likelihood that the UK internal market could influence Scottish ministers' ability to act on the environmental principles, where that also would lead to significant policy divergence."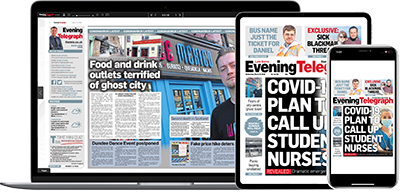 Help support quality local journalism … become a digital subscriber to the Evening Telegraph
Subscribe