Serena Williams ensured history did not repeat itself as she battled to a fourth-round victory over Maria Sakkari to reach the US Open quarter-finals for the 16th time.
In a compelling contest at Arthur Ashe Stadium, Williams recovered from a break down in the deciding set to defeat 15th seed Sakkari 6-3 6-7 (6) 6-3.
Williams lost to Sakkari on the same courts in the Western & Southern Open last week from a set and a break up and went into the year's second grand slam with major question marks about her form.
Discussing her recent tendency to let opponents off the hook, Williams said: "It's like dating a guy that you know sucks. That's literally what I keep doing out here. It's like I have got to get rid of this guy. It just makes no sense."
That guy was heading in through the restaurant door when Williams lost the second set on a tie-break and made a poor start to the decider, just as she had last week, but this time he was sent straight home again.
"It was just one point here, one point there, and I feel this whole tournament I have been doing better with that," said the third seed. "Thank God I got rid of that guy. Never want to see him again. He was the worst.
"I just felt like I was able to compete longer. I was a little fatigued last time and had some cramps, but I felt like Maria almost played better today. She's such a good competitor. It was a really intense match."
Williams played a fine first set but Sakkari, one of the best athletes in women's tennis, stuck with her during an intense and physical second set.
The third seed let out a piercing scream after a return from Sakkari hit the top of the net and dropped dead to give her a set point at 6-5 but she saved it, and a second to force a tie-break.
Williams made a poor start, losing the first four points, but a winning return on the fifth point gave her a foothold and she saved two more set points in convincing fashion.
However, the doubts that have crept into Williams' formidable psyche resurfaced with two errors that gave Sakkari the set.
Last week she fell apart in the deciding set, narrowly avoiding the dreaded bagel, and it seemed like the same thing might happen when Sakkari broke serve for the first time in the opening game.
But trying to finally equal Margaret Court's tally of slam singles titles is the reason Williams is still out there competing, and she summoned all her physical and mental resolve to claw her way back.
Sakkari was now the one fighting for parity and a netted forehand at 3-4 gave Williams the crucial advantage – and this time she held onto it.
Sakkari was left to dwell on what might have been, saying: "I think we both played a high-level match but I wasn't brave enough in the third set.
"I kind of, not choked, but didn't take my chances and, if you don't take your chances with a good Serena against you, it's done."
Williams' opponent in the last eight will be fellow mother Tsvetana Pironkova, who continued one of the most remarkable slam runs of recent times by defeating France's Alize Cornet 6-4 6-7 (5) 6-3.
It is Pironkova's first trip to the US Open quarter-finals and comes despite the fact this is her first tournament back following her retirement three years ago and the birth of son Alexander.
The Bulgarian became emotional during her on-court interview, saying: "I haven't seen him in two weeks and it's very tough. It gets tougher every day. But I know he's watching me and I know he's proud of me. And it's worth it.
"It's absolutely unreal. I really don't believe it."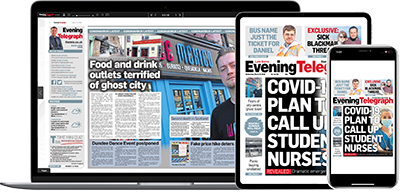 Help support quality local journalism … become a digital subscriber to the Evening Telegraph
Subscribe