An SNP councillor has urged Nicola Sturgeon to consider closing down Scotland's pubs to curb the spread of coronavirus.
With the number of new cases of Covid-19 on the rise, Chris McEleny said keeping bars open is "not compatible" with efforts to control the virus.
Mr McEleny, who has served as SNP group leader on Inverclyde Council, said if the Scottish Government wants to keep people safe and schools open full-time "the decision to reimpose lockdown restrictions on all pubs must now be on the table".
He made the plea after Sunday's figures showed Scotland had recorded 208 new coronavirus cases, the highest daily increase in positive tests since May.
Hospitality was one of the hardest hits sectors of the economy when lockdown was imposed in March, with pubs, restaurants and cafes all forced to shut their doors.
An easing of restrictions has allowed them to open back up again although bars in Aberdeen were closed again for a period after a spike in coronavirus cases in the city.
Mr McEleny said while he fully supports "innovative" measures to support businesses it is "not compatible to have pubs across the country open when we are seeing new cases at a rate that previously we were in a country wide lockdown to get them under control".
He said: "If we want to keep ourselves and others safe, keep schools open full time and make workplaces more productive again, the decision to reimpose lockdown restrictions on all pubs must now be on the table.
"If we work hard now to continue to stick to the Scottish Governments physical distancing measures then we can play our part in stopping the spread of the virus."
The councillor, who has previously ran to be SNP depute leader, added: "Pubs being open has clearly desensitised our caution at a population level with people regularly asking why can I not visit a family member, why can I not go to a funeral, or go here or there when pubs are full across the country?
"You can stick to party lines on that point but the reality is people are right and for as long as pubs are open people will act like the virus has gone away and that will only result in new cases increasing again on a daily basis."
A Scottish Government spokeswoman said: "We have established procedures for identifying localised outbreaks and the implementation of Test and Protect is an important enhancement to this.
"Where local outbreaks occur, our actions are guided by the case, local health protection advice, evidence and the most up to date public health advice."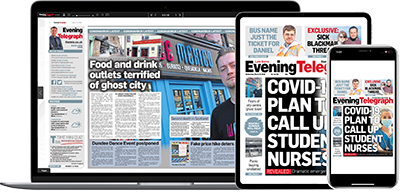 Help support quality local journalism … become a digital subscriber to the Evening Telegraph
Subscribe