Around 100 school pupils have staged a protest in Glasgow against their exam results amid continued criticism of the independent body's marking system.
The Scottish Qualifications Authority (SQA) downgraded 124,564 results for exams which were cancelled due to the coronavirus pandemic.
Education Secretary John Swinney has said pass rates rose at every level and would have been the highest on record without the downgrading.
Erin Bleakley, from the east end of Glasgow, is one of those affected by the changes and that prompted her to organise the action on Friday morning in George Square.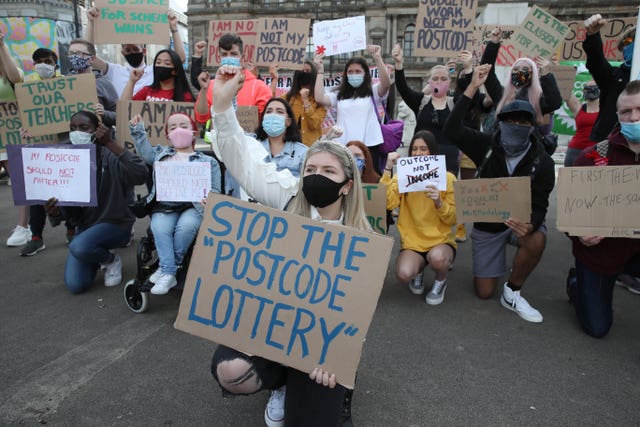 The 17-year-old attends St Andrew's High School in Carntyne, which was earlier this year identified by the Scottish Index of Multiple Deprivation as the second most deprived area in the country.
She is part of a two-year Highers scheme – which meant she and other pupils bypassed the National 5 qualifications – and had four of her six expected results downgraded.
Recalling how she felt as she received her results, she told the PA news agency: "I crumbled, my legs just crumbled beneath me, I couldn't believe it – I was bawling, crying, I couldn't believe that the work we'd done for the past two years had went down the drain.
"Now that some people have failed they've got nothing behind them because of the downgrades.
"We want our voices to be heard, we will not stand back and take this. Our postcode does not define us as people.
"I'm happy that so many people came out to support this cause, there's some people I know really well and some I've never met before in my life.
"It's good to have that blend of people knowing that it's not just us that's affected, it's other young people."
Among those in attendance was Drew Skinner, a 17-year-old pupil at St Mungo's Academy in Glasgow who penned an open letter to Mr Swinney after pupils received their results on Tuesday.
The protesters were armed with placards reading "SQA – widening the attainment gap since 2020", "Judge my work not my postcode" and "Swinney quashing ambition".
Opposition party politicians attended in support of the protest, including Labour MSPs Neil Findlay and Monica Lennon and councillors Frank McAveety and Pauline McNeill.
Mr Findlay told PA: "I've had 200 emails in the last 24 hours from young students, parents, families and their carers that are outraged at what has gone on.
"Simply because of where they live, simply because they come from what are called deprived communities that they have had their exams downgraded, and many have had their futures stolen away from them.
"It's frankly outrageous."
Patrick Harvie, the Scottish Greens co-leader, also said: "I have no doubt that we are going to force the Scottish Government into a U-turn to start to fix the injustice and ensure that there's no detriment policy in place for young people.
"I am also convinced that many of the young people who are angry about the situation are going to turn the anger into something positive and will be a really important force for change in our society."
Scottish Conservative Glasgow councillor Thomas Kerr also got up to speak but was heckled by some of the protesters.
One pupil accused the Tories of "only speaking for us when it suits you", but organisers reminded those attending it was not a political event.
Mr Kerr, a former pupil at the city's Eastbank Academy, told the crowd: "If what had happened this year happened to me, I would never have been in the position I am in today.
"I know some people are obviously unhappy that I'm here today but I just wanted to say you have my full support."
Asked about the protests and claims of unfairness, First Minister Nicola Sturgeon said: "If you're a young person sitting at home right now or in George Square in Glasgow and you have results that are below what your teacher thought you should get, you are going to – understandably – feel very aggrieved.
"And if you think that's because of the postcode you live in or the school you go to, that is going to be even more pronounced."
While urging eligible pupils to appeal against their grades, Ms Sturgeon said that students are "entitled to be angry and entitled to feel that this is not just".
"The Government will listen carefully to that, but please don't lose sight of this next part of the process because this is the part of the process that's not a statistical model, this is the part of the process that looks at your individual circumstances," she said.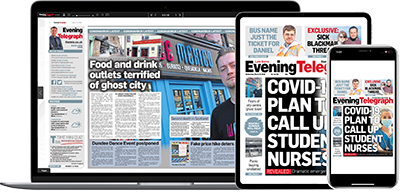 Help support quality local journalism … become a digital subscriber to the Evening Telegraph
Subscribe