Health Secretary Jeane Freeman has said it is up to individual health boards whether they reimburse chronic pain patients who travelled to England for treatment.
Pain relief services for patients with chronic conditions were paused near the start of the coronavirus pandemic as part of efforts to prepare NHS Scotland for treating Covid-19 cases.
An investigation by the BBC found many patients turned to private treatment, travelling to England for the help they need during lockdown.
Scottish Labour health spokeswoman Monica Lennon said the situation was "really unfair" and called for the Scottish Government to cover the cost of treatment and travel for patients who have made the "very painful and difficult" journey.
Asked whether people will be reimbursed for the costs of the treatments received while NHS Scotland services have been paused, Ms Freeman said health boards can choose to do so on a case-by-case basis but it is normally agreed before treatment happens.
"That option is there," Ms Feeeman said.
"However, what is normal is that the health board agrees before an individual seeks treatment out of the country, out of Scotland, that they agree to pay for that.
"But it is a decision that sits with the health boards."
Speaking on the BBC's Good Morning Scotland programme, Ms Freeman added: "Individual cases will be looked at by each of our health boards and they will make a decision about what they think is the right thing to do."
The Health Secretary also said NHS Scotland is looking to restart pain relief services as soon as it is safe to do so, having pledged the publication of a "recovery framework" for pain management services in the near future.
Calling for pain services to be urgently restarted across Scotland, Ms Lennon said: "It is really unfair that people living with chronic pain are having to make a very painful and difficult journey to England to receive the treatment they both need and are entitled to.
"In the immediate term, those patients who have had to do that should be reimbursed for their medical expenses and other travel and accommodation costs.
"I am glad to hear that the Health Secretary agrees with me and I hope she will work with health boards to ensure patients are reimbursed."
She added: "What I want to see happen next is that the Scottish Government make sure that patients in Scotland get treatment in Scotland.
"We cannot leave those living with chronic pain behind as we reopen NHS services.
"It is time for the Scottish Government to get chronic pain services up and running again as soon as possible."
Scotland's national clinical director Prof Jason Leitch previously said: "We are remobilising and chronic pain is inside that puzzle and we'll be getting back to as close to normal as we can, as fast as we can."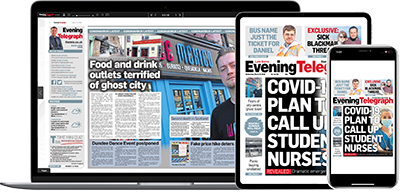 Help support quality local journalism … become a digital subscriber to the Evening Telegraph
Subscribe