Animal campaigners have expressed frustration at the Scottish Government as they called for urgent measures to prevent the killing of mountain hares before they are given new protected status.
Legislation passed by Holyrood in June will give the animals more safeguarding, but the measures are yet to come into force.
The closed season, during which culling of mountain hares is forbidden, came to an end on Friday.
Rural affairs minister Mairi Gougeon previously announced the Scottish Government would back an amendment from Greens co-leader Alison Johnstone to the Animals and Wildlife (Penalties, Protections and Powers) (Scotland) Bill to give mountain hares protected status.
It came after more than 22,000 people signed a petition in support of the measure.
But campaigners have been calling for an interim measure to be put in place to prevent culling before the legislation can come into effect.
OneKind director Bob Elliot, said: "We very much welcomed that the Scottish Government agreed to include Alison Johnstone MSP's amendment to the Animals and Wildlife (Penalties, Protections and Powers) Bill to make mountain hares a protected species.
"It was momentous to see a major step forward for one of our most heartfelt campaigns, to end the mass scale mountain hare culls.
"So, like many others, we are disappointed and frustrated that the Scottish Government has, so far, not responded to requests for an interim measure, to protect mountain hares until the new legislation comes into effect.
"This leaves mountain hares vulnerable to being indiscriminately killed for an indefinite period.
"Indeed, shooting groups have made it clear that they plan to continue to kill hares, against the will of the Scottish Parliament.
"We urge the Scottish Government to enshrine mountain hares' protected species status into law as a matter of urgency."
The British Association for Shooting and Conservation (BASC) has already said the open season – during which the animals can be killed – is expected to start as normal on August 1.
On Friday, Scotland's Environment Secretary Roseanna Cunningham said: "It's the end of the closed season for mountain hares today and I expect all land managers to act responsibly and with restraint.
"Mountain hares are an iconic species and we want them to thrive in our uplands.
"We are giving careful consideration to how and when to bring into force the new statutory protections and licensing regime and we are discussing how this is going to work in practice with land managers."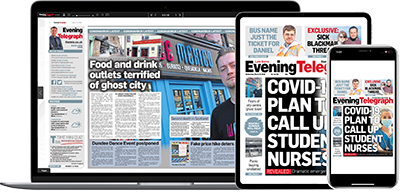 Help support quality local journalism … become a digital subscriber to the Evening Telegraph
For as little as £5.99 a month you can access all of our content, including Premium articles.
Subscribe