An SNP councillor who has championed a "plan B" for independence is hoping to run for Holyrood in next May's election.
Chris McEleny, the SNP leader on Inverclyde Council, said he wants to stand in the Inverclyde and Greenock constituency.
The SNP currently holds the seat, with sitting MSP Stuart McMillan representing the area.
But Mr McEleny – who produced the independence plan B alongside MP Angus MacNeil – said it would "be the privilege of my life to represent our whole community and the people I grew up with and know and care about at our nations Parliament".
He added: "Inverclyde has so much potential and reindustrialising our waterfront to create quality jobs and attract much-needed investment into the area would be one of my top priorities as part of a wider strategy of reducing the levels of deprivation in our area and increasing the quality of life for everyone."
At the SNP conference in October, party members rejected a call from Mr McEleny on his plan B proposals, which set out that a pro-independence majority in an election in Scotland should be considered as a mandate for independence talks to begin with the UK Government.
Mr McEleny said: "As we enter the nomination period for the Holyrood elections, now more than ever I believe that Scotland must be an independent country so that we can choose to build a fairer nation as opposed to having the policies of Boris Johnson imposed upon us by a UK Government we simply do not vote for.
"I would be honoured to be chosen as the SNP candidate for Greenock and Inverclyde and I pledge to you that I would be a strong voice for Inverclyde that will with every fibre of my being stand up for Scotland's right to choose its own future as an independent nation, whether Boris Johnson likes that or not."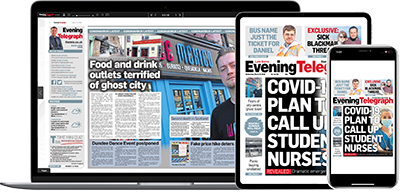 Help support quality local journalism … become a digital subscriber to the Evening Telegraph
Subscribe