An £11.2 million fund for the childcare sector as it fully reopens has been announced by the Education Secretary.
Speaking at the daily coronavirus briefing on Thursday, John Swinney praised those who have worked in the sector throughout lockdown, particularly looking after the children of key workers.
The new Transitional Support Fund will be made available to childcare operators, including those who offer out of school care, to meet costs incurred by measures required to meet public health standards.
The Scottish Government said the money can be spent on increasing cleaning, new equipment to improve outdoor spaces, changes to help support social distancing among adults or other measures taken by providers.
Applications for the fund will open for all third and private sector childcare providers on July 31, with grants predicted to vary between settings based on capacity.
He said: "Childcare has carried on throughout the pandemic – key worker childcare was at the heart of keeping Scotland going throughout lockdown.
"Without it, Scotland could not have responded to the Covid-19 pandemic the way that we did and I extend my warmest thanks to you for your efforts."
On the new fund, Mr Swinney said: "I know it's been difficult for the private and third sector during Covid-19 and I know that the transition to the new way of working that the virus requires of increased cleaning, additional equipment, developing outdoor space and adaptations to support the physical distancing of adults will all mean more financial pressure."
In addition, he added that a workforce support fund set up by the Scottish Government and the Scottish Childminding Association will provide grants to cover changes in that sector caused by the pandemic and is now open for applications.
While term-time childcare will be the last part of the sector to return at the beginning of next month, Mr Swinney said the industry would "look and feel a bit different".
He added: "Some public health restrictions will remain in place at that time. These are about keeping children, staff, parents and the wider community safe.
"At their heart is the need to reduce the overall number of contacts that we each have in order to suppress the virus."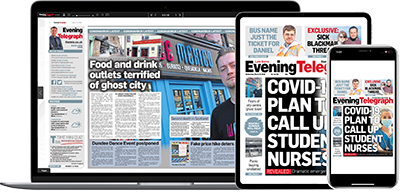 Help support quality local journalism … become a digital subscriber to the Evening Telegraph
For as little as £5.99 a month you can access all of our content, including Premium articles.
Subscribe