Congregations are facing a "new normal" as they return to communal worship amid the coronavirus outbreak.
Services and prayer can take place in sacred spaces once again from Wednesday – but physical distancing must be adhered to and there will also be restrictions on numbers, singing and chanting.
Places of worship closed when the country went into lockdown in March, and have more recently only been allowed to reopen for private prayer.
Peter Kearney, director of the Scottish Catholic Media Office, said congregations will welcome the return of Mass, but highlighted how parishes are preparing for the so-called new normal.
One of the changes is introducing booking systems, including through apps such as Eventbrite, for such services due to a maximum of 50 people being allowed.
He said: "The suggestion will be that if you book to go this coming Sunday you miss the following one to allow as many people as possible to get back.
"There's great excitement at the prospect of a return to Mass almost four months after all public Masses stopped in Scotland.
"Sunday and daily Mass attendance is central to the faith of many Catholics.
"Live-streaming has definitely been a comfort but it hasn't been a replacement."
Measures taken to ensure safety include limits on congregation numbers, extensive cleaning and social distancing.
The Church of Scotland has issued guidance to ministers and congregations to consider if they should open their building at this stage in the pandemic.
It has also recommended that alternative ways of providing music rather than communal hymn singing should be "explored".
A spokesman said: "We recognise that for many the buildings themselves are important sacred spaces and the opportunity to return to their place of worship, even on a limited basis, will bring spiritual and mental health benefits.
"We have prepared guidance to help ministers and congregations as they carefully consider if they should open their church building at this point as we continue to live with the threat of coronavirus.
"Decisions will be based on individual circumstances and physical distancing, hand hygiene, enhanced cleaning and disinfection will have to be embraced to ensure worship, funerals and weddings can safely take place."
Charandeep Singh, executive director at Sikhs in Scotland, said: "Although gurdwaras have remained closed through the lockdown period they have been at the heart of providing lifeline services including hot meals, food parcels, online prayers and welfare support.
"We are pleased that gurdwaras and places of worship can reopen for communal worship and welcome the community back once again.
"This has been a challenging time for everyone and the restarting of communal services will boost the morale and wellbeing of worshippers across the country."
He added: "We are working in partnership with the Scottish Government to communicate the guidance in a multilingual format to make sure all worshippers are aware of the changes and our collective responsibility to follow the safety measures.
"The restarting of communal services is a welcome step in the right direction."
Ahmed Owusu, a spokesman for Ahmadiyya Glasgow, also said the pandemic had given the community more cause to come together remotely but still welcomed the prospect of communal worship returning.
He told the PA news agency: "The Ahmadiyya Muslim community would always stand tall whenever it comes to situations because we always turn whatever situation that we face into something good.
"We were constantly meeting virtually… everyone was actually meeting, one way or the other – if anything the activities actually increased because we were at home and activities were always available for us to access.
"Opening up the places of worship is something that also comes with a bit of joy because that is how people have always lived so they will see that as a bit of normality coming back into the system.
"However, we also know that the virus is not gone… we also support and do our level best with the government so that we can help get rid of this virus which has given us this unprecedented time."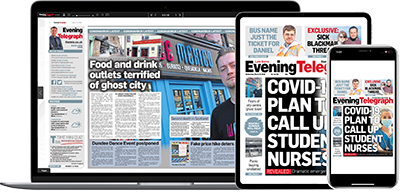 Help support quality local journalism … become a digital subscriber to the Evening Telegraph
For as little as £5.99 a month you can access all of our content, including Premium articles.
Subscribe