The leader of the Scottish Conservatives has urged people to spend locally ahead of the hospitality and tourism sectors reopening.
After almost four months of enforced closure due to the coronavirus pandemic, hotel accommodation and other tourist businesses are allowed to begin trading again from Wednesday.
Bars and restaurants will also be allowed to welcome customers inside after only being able to open outdoors spaces such as beer gardens.
The Scottish Tory leader said the change in regulations, confirmed in last week's decision to move to phase three of the route map out of lockdown, will benefit those who may be feeling "institutionalised" by the measures.
Speaking at the Cartvale Bar in Busby in his Eastwood constituency, Mr Carlaw pushed for people to spend their money in local businesses that may have been struggling to make ends meet in recent months.
He said: "Tomorrow, at long last, our pubs, restaurants, cafes are all able to open again to the public and its incredibly important that we support them.
"If we want these amenities to exist, if we want to see them at the heart of our communities, we need to get out and support them as well."
In response to the easing of regulations, Mr Carlaw has called on the Scottish Government to create a mass marketing campaign urging Scots to shop locally.
Along with a boost to the local economy, Mr Carlaw said the reopening of hospitality businesses will have an impact on public well-being.
He said: "I think people have got slightly institutionalised almost over the last few months – some have lacked the confidence to come back out again.
"I think it's important to say 'yes, we have to be acutely conscious all the time that the virus still exists but as long as people follow the rules, follow the instructions, follow the guidelines and operate within the safe environment people have worked to create, they can do it with confidence'."
He added: "It is vital, because this is a huge sector for the Scottish economy, whether it be something local or whether it be the tourism that supports our many hotels across Scotland – it's vitally important that this sector recovers and that people have the confidence to go out and support it."
In recent weeks, as the virus has began to recede and the number of cases and deaths has dropped, First Minister Nicola Sturgeon has repeatedly warned against complacency during her speeches at the coronavirus briefing and in Holyrood.
Mr Carlaw echoed this but added the public has "applied their proper common sense" throughout the pandemic in taking up the guidance issued by authorities.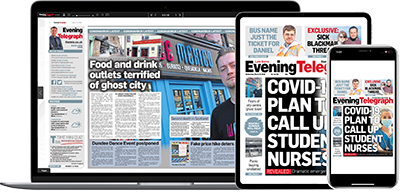 Help support quality local journalism … become a digital subscriber to the Evening Telegraph
For as little as £5.99 a month you can access all of our content, including Premium articles.
Subscribe