The Scottish Government is failing vulnerable children by not checking they have received digital devices during lockdown, the Conservatives have said.
The party's education spokesman Jamie Greene said he was told in a written response from the Education Secretary that ministers do not have detailed information on the number of devices handed out to help home learning.
A total of £25 million has been invested to support pupils facing "digital exclusion" while schools are closed, with councils distributing devices to those lacking internet access.
Mr Greene said: "Children all over Scotland are suffering as a result of lockdown, missing out on important education, socialising and other opportunities.
"But the SNP always said it would protect the most vulnerable of those to ensure they wouldn't be left even further behind.
"This admission that it hasn't even bothered to check if the poorest pupils have access to digital learning reveals a real negligence at the heart of this Government.
"By the time schools go back some of these young people will not have had any education for nearly six months through absolutely no fault of their own.
"They simply haven't been given that helping hand they need by this SNP Government.
"Once again, the SNP Government either doesn't know or doesn't care, and shows no leadership on such a crucial element of education."
In his written response to Mr Greene, Education Secretary John Swinney said: "The Scottish Government does not hold detailed information on the number of devices issued to households to support home learning, blended learning or virtual classes across all local authorities.
"We do know that a number of authorities have pre-existing device roll-out programmes and a number of others have issued devices in response to the pandemic.
"The Scottish Government has committed to investing a total of £25 million to support digital inclusion amongst school-aged children suffering from digital exclusion."
He said the Scottish Government is working with local authorities to roll out the devices across the country.
Responding to the Conservatives, a Scottish Government spokeswoman said: "We recognise that the disruption and challenges caused by the pandemic are hitting children from disadvantaged backgrounds particularly hard and we have been encouraging schools to target support where it is most needed.
"Local authorities and schools have put in place a range of approaches to tackle digital exclusion, such as repurposing school IT equipment and providing internet connectivity.
"In addition, we are investing £9 million for 25,000 laptops – with internet access provided – for disadvantaged children to support learning outside school. This is the first phase of our £30 million commitment to support digital inclusion.
"Learning hubs for vulnerable children and key workers will stay open over the summer and meeting the learning needs of pupils from disadvantaged backgrounds continue to be a priority as we plan for the safe re-opening of schools."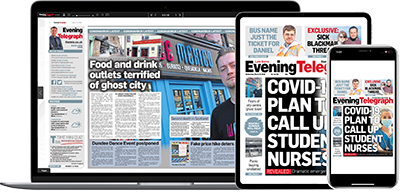 Help support quality local journalism … become a digital subscriber to the Evening Telegraph
For as little as £5.99 a month you can access all of our content, including Premium articles.
Subscribe