Early evidence suggests smaller care homes may have coped better with the Covid-19 pandemic, Health Secretary Jeane Freeman has said.
She told MSPs that homes with fewer than 30 residents appear to have done a better job of controlling the virus but stressed the evidence is not yet conclusive.
Ms Freeman gave evidence to the Scottish Parliament's Health Committee on Thursday about the impact of Covid-19 on care homes.
She said inquiries are under way into whether having care staff live inside homes during the pandemic has helped to curb the virus, as well as how homes previously ordered to improve by the Care Inspectorate have coped with Covid-19.
The Health Secretary said: "There does appear to be a distinction between the sizes of care homes, with care homes of a smaller size – 30 beds and under – appearing to do better in terms of handling this virus and the incidence of it.
"But as I say this has to be heavily caveated as only early emerging information appears to suggest that."
Scottish Labour MSP David Stewart asked if there are plans to "beef up" the powers of the Care Inspectorate to regulate the industry.
Ms Freeman said she would not rule this out, noting a court ruling over the Home Farm Care Home in Skye is expected later this month.
The Care Inspectorate has carried out 27 inspections of 19 establishments in the last two or three weeks, she said, when inspectors returned to homes to find out if improvements had been made.
In response to a question from Liberal Democrat MSP Alex Cole-Hamilton, she said the decision to move hospital patients into care homes during the early days of the crisis ultimately rested with her.
She said: "We've already rehearsed all the factors and the reasons around that and indeed noted that at the time there was cross-party support, I think it would be fair to say, for that approach by Government."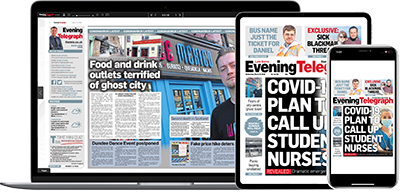 Help support quality local journalism … become a digital subscriber to the Evening Telegraph
For as little as £5.99 a month you can access all of our content, including Premium articles.
Subscribe