Hundreds of teachers could be brought back into the profession as schools are set to return after the coronavirus outbreak.
The General Teaching Council for Scotland (GTCS) is currently working on an initiative which will see teachers registered in Scotland but who are not currently working in the profession given the chance to return, the Herald reported on Monday.
The body said that 76,643 teachers are currently registered, with 61,439 currently working, but they stressed that some of those not in the job will have retired, moved abroad or started work in another educational setting, and the numbers returning would unlikely to be in the thousands.
GTCS chief executive Ken Muir said the project was currently being "finalised" but encouraged qualified teachers who are looking to get back into the classroom to contact their local authority.
Last month, First Minister Nicola Sturgeon announced schools would return on August 11 as part of a "blended model" of learning which would see pupils spend up to half of their time at home.
Guidance published by the education recovery group (ERG) – set up by the Scottish Government and chaired by Education Secretary John Swinney – said retired and former teachers could come back into the fold, along with local authorities using additional premises such as libraries and church halls to allow for smaller classes to facilitate social distancing.
Ken Muir, chief executive of the GTCS, said: "We are pleased to be part of this collaborative approach to supporting the teaching profession and helping children and young people return to schools when it is safe to do so.
"As part of this work, we are currently finalising with Scottish Government and other partners how arrangements will be managed.
"In the meantime, and to maintain public confidence, we suggest that teachers who are registered with GTCS, who hold a current PVG and who are interested in returning to teaching contact the local authority they wish to support.
"As employers, local authorities can provide further advice at this time.
Mr Muir added: "There are currently 76,643 people on the register of teachers, with 61,349 employed in schools.
"The register changes on a daily basis and is reliant on employment information being kept up to date by registrants.
"It is important to note that the difference between both figures includes people who are employed in other settings; who work abroad; and are retired."
A spokeswoman for the Scottish Government said: "As set out in the framework published on May 21, we are already committed to supplementing the existing workforce where required."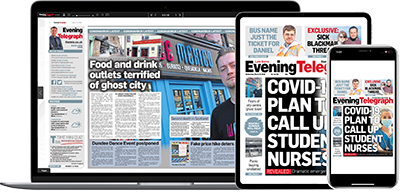 Help support quality local journalism … become a digital subscriber to the Evening Telegraph
For as little as £5.99 a month you can access all of our content, including Premium articles.
Subscribe