A cancer charity has launched an appeal amid the "toughest challenge" it has ever faced, as it fears it will be unable to provide support in future due to the impact of coronavirus.
Clan Cancer Support has had to postpone major fundraising events due to the Covid-19 outbreak, but has seen significant demand for its telephone support, counselling and online services.
It is now calling for donations for its Here For You appeal.
Colette Backwell, chief executive, said: "Coronavirus is the toughest challenge Clan has ever faced, but we are continuing to support our clients through this time.
"We support over 2,600 people every year and it is more important than ever that Clan continues to be here for them, which is why we are launching the Clan Here For You appeal today.
"With the lockdown in place, we are all feeling anxious, helpless and alone, but imagine if you were also dealing with a cancer diagnosis.
"These feelings are amplified by the lockdown measures, separating families and friends and restricting access to face-to-face cancer support services such as those we provide."
Clan has centres across the North and North East of Scotland in Aberdeen, wider Aberdeenshire, Banchory, Crimond, Elgin, Inverurie, Lerwick and Kirkwall.
Within a week of the charity closing its premises, it had provided over 500 telephone support calls, counselling sessions and contact with its children and family clients.
It continues to see high demand for these services, at the same time as experiencing a significant drop in income.
Fiona Fernie, Clan's head of income generation and business development, said: "Without the income from our shops and fundraising events, we cannot sustain the provision of our professional cancer support in the longer term.
"Cancer is not going away and our services are more vital than ever, so we want to ensure we are here to support those who need us most, not just now but also into the future."
To donate visit www.clanhouse.org.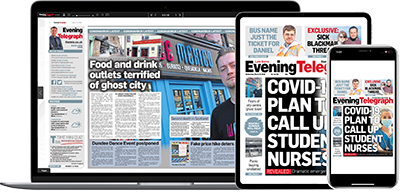 Help support quality local journalism … become a digital subscriber to the Evening Telegraph
For as little as £5.99 a month you can access all of our content, including Premium articles.
Subscribe