Scotland could face an explosion in homelessness without more action to help tenants during the Covid-19 crisis, ministers have been warned.
Campaigners are calling on the Scottish Government to extend its moratorium on evictions, and only end it once the current coronavirus restrictions have all been lifted.
The plea has been made by Homeless Action Scotland, the Govan Law Centre, charities Cyrenians and Age Concern, the trade union Unison Scotland, and the Living Rent Campaign.
It comes after MSPs rejected a bid by the Scottish Greens for emergency Covid-19 legislation to include a two-year rent freeze and a ban on the eviction of tenants for rent arrears caused by the pandemic.
Gavin Yates, chief executive of Homeless Action Scotland, said: "Only a complete ban on evictions until the end of the coronavirus crisis can genuinely protect both tenants and the wider public.
"The long-term implications of Covid-19 are only just starting to be understood and people will need time to get their finances in order.
"There is no point focusing activity on dealing with the current housing crisis without looking at the bleak financial horizon ahead.
"We are facing a potential homelessness explosion and time is not on our side.
"The Scottish Government needs to listen to colleagues from the trades union movement, the legal profession and the third sector.
"Covid-19 has changed everything we know and simply more of the same won't be good enough."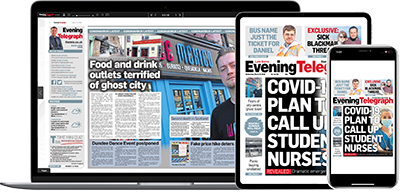 Help support quality local journalism … become a digital subscriber to the Evening Telegraph
For as little as £5.99 a month you can access all of our content, including Premium articles.
Subscribe