Personal protective equipment issued by the NHS in Scotland is costing £3.2 million a week on average, the Health Secretary has confirmed.
Jeane Freeman revealed the figure in a letter responding to questions from Holyrood's Health and Sport Committee convener Lewis Macdonald.
Most of the PPE issued by NHS National Services Scotland went to acute care settings such as hospitals at £2.5 million on average per week, with £292,000 going to community settings.
A weekly average of PPE costing £461,000 went to social care settings, around half of which were care homes.
In total, 17.8 million pieces of equipment were issued each week on average.
Ms Freeman told the committee that modelling for levels of PPE required was based on current usage, adding: "Current modelling shows stocks and orders are adequate to meet demand."
She wrote: "No PPE orders placed since the beginning of the pandemic have been rejected or deemed unsuitable by NSS National Procurement in relation to conformance with the required specification."
She added that a "small allocation" of fluid repellent surgical face masks issued from the historic pandemic stockpile were said to be marked from being in storage.
"As with any normal product where the packaging is damaged or product marked, the individual boxes were removed for disposal and replaced," Ms Freeman wrote.
"All products purchased have met the quality standards and to date no products purchased by NSS National Procurement as part of this response have been written-off."
She also released a copy of the Exercise Silver Swan report, a pandemic planning exercise in 2015 involving Scottish public services dealing with a simulated flu outbreak.
As revealed in a leaked copy of the report, it made 17 high-level recommendations, including that all those involved "review pandemic plans to assess how they address a significant increase in the demand for services as set out in the pandemic planning assumptions".
Investigating the establishment of emergency staffing procedures was also recommended, as was reviewing the distribution of national pandemic stockpiles and ensuring a wide understanding of plans for distribution of PPE and prioritisation of key staff.
Mr Macdonald asked the minister to what extent the recommendations from the report were shared with care home providers and others providing social care.
Ms Freeman said the exercise report was shared with those who took part, including local authorities and health and social care partnerships.
She told a previous meeting of the committee that Exercise Silver Swan was useful but insufficient to prepare for the "infectiousness" of Covid-19, as the virus behaved differently to flu.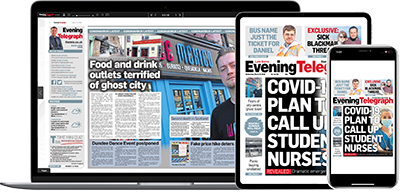 Help support quality local journalism … become a digital subscriber to the Evening Telegraph
For as little as £5.99 a month you can access all of our content, including Premium articles.
Subscribe