Health Secretary Jeane Freeman has said the Scottish Government will meet its target of recruiting 2,000 contact tracers by June.
Speaking on the BBC's Good Morning Scotland programme, Ms Freeman responded to reports that there had not been any new contact tracers recruited to aid the test, trace and isolate plan put in place by the Scottish Government earlier this month.
The staff will be responsible for tracking the movements of people who test positive for Covid-19, in a bid to stop the spread of the virus.
Contact-tracing will start in three health boards as part of a pilot programme on Monday, before being opened to the rest of the country.
Ms Freeman said there were already staff from different areas of the NHS, as well as those returning to the healthcare sector, who were working as contact tracers.
Asked if the Scottish Government will meet the target, she said: "We will get to that number by the beginning of June and there may be more than that."
Ms Freeman said that there will be 2,000 workers ready to trace contacts, but added there may not be the number of cases for the entire cohort to be put to work on.
She said: "Remember, test, trace, isolate and support is triggered by a case.
"People don't just go out and start randomly testing, tracing and isolating.
"We need it all to be ready, that's why the technology is being tested in those three boards this week in order to ensure that central part of continuing to catch and suppress the virus is ready to go to support the easing of the lockdown measures."
The Health Secretary would not be drawn on the future of the lockdown measures, saying that the First Minister and the cabinet will make decisions on whether measures should be eased, as they have been in other parts of the UK.
She added: "We are taking a very precautionary approach here, because a lot has been achieved in suppressing this virus.
"What we don't want is to take early decisions because we're pressured to do that and see that real gain go into reverse."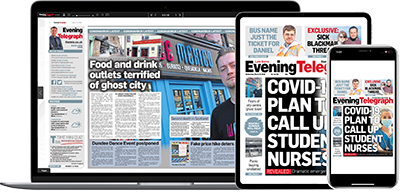 Help support quality local journalism … become a digital subscriber to the Evening Telegraph
For as little as £5.99 a month you can access all of our content, including Premium articles.
Subscribe