The Scottish Retail Consortium (SRC) has called for financial assistance for the sector to be removed in stages as the country emerges from lockdown.
In a submission to the Economy, Energy and Fair Work Committee's inquiry on Covid-19, the SRC expressed concern about financial support being removed when lockdown measures are rescinded.
The Scottish Government has provided 100% rates relief for retail, leisure and hospitality businesses during the pandemic, as well as access to £25,000 grants for small businesses in the sectors, mirroring a package of support seen in England and Wales.
The SRC has now called for a phased removal of the support, as well as asking government to be open to further extensions of schemes in a bid to preserve jobs.
The submission from the SRC said: "Allow for 'tapering' of financial support measures so that costs can continue to be partially covered while businesses ramp up to full capacity.
"For example, while the decision to extend the UK Government's Covid Job Retention Scheme to the end of June was very welcome, given that the speed and extent of the recovery in consumer demand will be uncertain for some time to come, government should remain open to further extension to ensure redundancies do not result.
"It will be some time before businesses are able to trade anywhere near normally – supply chains will take time to gear up, and consumer demand is likely to return slowly and unpredictably, according to evidence from businesses with operations in markets that are ahead of the UK in terms of easing restrictions.
"It is vital that while businesses' income remains weak, their costs do not spike overnight once restrictions are eased.
"Both the Scottish and UK governments have put in place very encouraging and welcome business assistance measures during the crisis."
The SRC's submission also estimates UK retail businesses have spent £100 million on measures to ensure social distancing in shops.
It said: "Social distancing costs include flexi-plastic at tills, additional signage, additional cleaning, face masks and personal protection equipment for colleagues, and extra security including marshalling queues.
"Based on a selection of member feedback from those continuing to trade, a very rough estimate would be UK expenditure is around £100 million so far."
The statement comes on the same day as the Scottish Government released figures showing a drop of 1.1% in retail sales between January and March, before lockdown measures were put in place.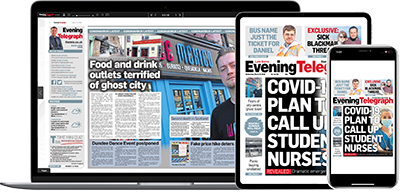 Help support quality local journalism … become a digital subscriber to the Evening Telegraph
For as little as £5.99 a month you can access all of our content, including Premium articles.
Subscribe