A new Scottish Parliament committee dedicated to scrutinising the response to coronavirus will meet for the first time on Friday.
The Covid-19 Committee will question Constitution Secretary Mike Russell on how the Scottish Government is dealing with the pandemic.
A motion approving the creation of a new committee is expected to be agreed on Wednesday.
It will be made up of nine MSPs – four from the SNP, two from the Conservatives and one each from Labour, the Liberal Democrats and the Greens.
The Tories' constitution spokesman Murdo Fraser is expected to be elected convener at the first meeting, with Scottish Labour's health spokesman Monica Lennon deputy convener.
To comply with social distancing, MSPs will meet remotely by video link.
Holyrood moved earlier this week to formalise virtual committee meetings during the pandemic.
Previously, only committee hearings held in person within the Scottish Parliament were considered formal meetings.
Presiding Officer Ken Mactintosh has held three virtual question sessions, two for party leaders to grill the First Minister and one for MSPs to quiz other ministers.
He has said there is a "pressing need" to maintain parliamentary scrutiny of Government during the pandemic.
Sessions have been limited since the start of the outbreak but there are no plans to scrap face-to-face meetings of the whole Parliament.
The new committee's remit will be to "consider and report on the Scottish Government's response" to the virus, including the use of emergency powers under the Coronavirus (Scotland) Act.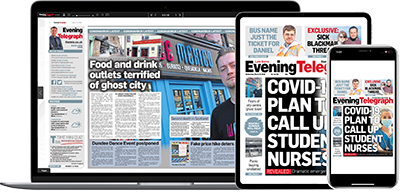 Help support quality local journalism … become a digital subscriber to the Evening Telegraph
For as little as £5.99 a month you can access all of our content, including Premium articles.
Subscribe