A consistent approach should be taken to allowing families to visit dying relatives during the Covid-19 pandemic, organisations representing medics, hospices and care homes have said.
The Academy of Medical Royal Colleges and Faculties in Scotland, known as the Scottish Academy, the Royal College of Physicians of Edinburgh (RCPE), Marie Curie and Scottish Care have jointly created new guidelines to an equal access policy.
The organisations said as current UK Government guidance banning non-essential travel during the lockdown does not specify if visits to dying relatives are permitted, varied policies are in place across care homes, hospitals, hospices and other settings.
Some forbid families to visit relatives dying of coronavirus, while others allow them.
The new guiding principles from the organisations state all patients in Scotland judged to be dying from Covid-19 or other terminal conditions – within hours or days – must receive equal access to visits from family or friends.
One family member should visit at a time, with any need for assistance taken into account, and as far as possible this person should be the family representative who visits up until death, the principles suggest.
Consent for visits should be provided if possible and visitors must agree to wear appropriate personal protective equipment and follow any isolation or quarantine rules necessary.
Anyone who is unwell or displaying coronavirus symptoms must not visit patients in hospital or other care facility, the guidelines indicate.
Scottish Academy chairman, GP Dr Miles Mack, said: "It is absolutely essential that family and friends understand the access they should expect when they visit a dying patient to whom they are close, across all care settings including nursing and residential homes, hospices, and hospitals.
"That should remain the case during the Covid-19 pandemic and we should redouble our efforts to ensure that families and patients have equal access to visits.
"But this must also be done in a way which protects healthcare staff, other patients and visitors.
"That is why we have published these new guiding principles, which we hope will be adopted by all primary, secondary and community care settings in Scotland at the direction of the Scottish Government."
Professor Andrew Elder, RCPE president, said: "Decisions regarding the presence of family at the bedside of their dying relative are not simply matters of infection control. And we should not permit them to be such.
"They are matters of our humanity; matters that define who we are, our understanding of what life is, and how our lives must end.
"We know how we will make people feel if we unnecessarily prevent them from being with a loved one at the time of their death.
"We do not need to make them feel that way, we can find ways to allow families to be together at this time."
The Scottish Government has been contacted for comment.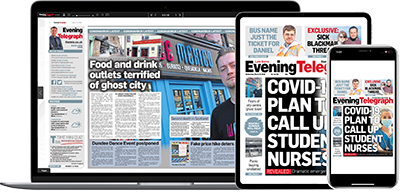 Help support quality local journalism … become a digital subscriber to the Evening Telegraph
For as little as £5.99 a month you can access all of our content, including Premium articles.
Subscribe