Colleagues of an NHS nurse who died after contracting Covid-19 have given a round of applause across wards to pay tribute to her.
Janice Graham died on Monday, becoming the first nurse in Scotland to die as a result of the coronavirus pandemic.
The "bubbly and loving" 58-year-old was employed as a healthcare support worker for NHS Greater Glasgow and Clyde (NHSGGC).
Colleagues organised a mass round of applause to be videoed in her honour on Thursday.
It was later posted online by a Twitter account linked to trade union Unison.
Catherine O'Donoghue worked with Ms Graham over a number of years and was one of those who organised the recording.
The staff nurse, from Greenock, told the PA news agency: "Janice was the most bubbly and loving, full-of- life person I have ever met.
"She had the most infectious laugh, she was always telling stories, she was just one of life's great characters.
"Myself and a few others messaged community colleagues and just asked if everyone could film themselves for a couple of seconds.
"The response we got was absolutely unexpected – it was absolutely fantastic."
The video footage has Mariah Carey's Hero playing over it.
It shows healthcare workers clapping in a range of wards – including at Inverclyde Royal Hospital – as well as staff at their homes.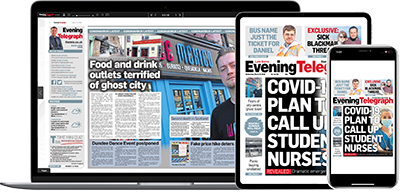 Help support quality local journalism … become a digital subscriber to the Evening Telegraph
For as little as £5.99 a month you can access all of our content, including Premium articles.
Subscribe