John Angus has become the first Scottish prisoner to die after contracting coronavirus.
The 66-year-old was being held at HMP Edinburgh and it is understood he had contracted Covid-19.
Angus was convicted at Inverness High Court in 2010.
Asked about the death of the prisoner, the First Minister declined to comment specifically, saying that a fatal accident inquiry (FAI) would take place.
Nicola Sturgeon said: "Let me say that we take the health and wellbeing of everyone in our prisons whether that's prisoners, prison officers or our healthcare workers extremely seriously.
"The death of a prisoner in prison is always one that is a matter of great regret.
"It is also the case that when a prisoner dies in prison there is an automatic referral to the Procurator Fiscal and an FAI."
Emergency legislation to tackle coronavirus, passed by MSPs last week, allowed for the release of some prisoners, excluding those who had committed sexual or terror offences.
Under the Coronavirus (Scotland) Act 2020, regulations would need to be further approved by MSPs to allow for the release of prisoners.
The First Minister said the Scottish Government pays "very close attention" to the size of the prison population, along with regular conversations with the Justice Secretary on the matter.
She added: "We will continue to make the judgments that we think are in the best interests of prisoners and those who care for prisoners.
"We would always see prisoner release as a last resort and I think people would expect us to do that.
"But we have made sure that the powers are there if we think that is something that is required to keep our prisons safe places for prisoners and those who work in them."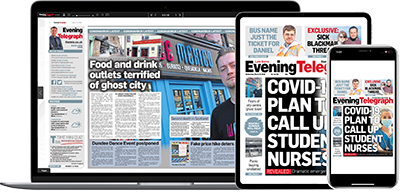 Help support quality local journalism … become a digital subscriber to the Evening Telegraph
For as little as £5.99 a month you can access all of our content, including Premium articles.
Subscribe