First Minister Nicola Sturgeon will take questions from party leaders in a virtual question and answer session on Thursday.
In a letter to MSPs on Wednesday, Presiding Officer Ken Macintosh said the parliamentary bureau – a group of MSPs which decides the business of the parliament – was hoping to hold a session similar to First Minister's Questions.
Later in the day, it was confirmed the session would go ahead at 12.30pm, and last for around 40 minutes.
On Twitter, the First Minister said it would replace the usual coronavirus briefing – which is held daily.
It is expected that the session will mirror the first part of the First Minister's Questions, where Ms Sturgeon takes questions from her opposite numbers.
The Presiding Officer wrote: "Like other legislatures, colleagues here have been very busy in recent weeks examining and testing a range of options for virtual working and I am pleased to say that the progress they are making is very encouraging indeed.
"In the first instance, the Parliamentary Bureau is exploring holding a leaders' virtual question time where party leaders can question the First Minister."
In his letter to MSPs, the Presiding Officer also said the bureau would look at expanding the scope of future sessions to allow questions from MSPs if Thursday's meeting was successful.
Calls have been made in recent weeks from opposition parties to create a parliamentary committee to scrutinise the response of the Scottish Government to the outbreak, which the Presiding Officer said is currently under consideration.
He told MSPs: "As you will appreciate, it is important that we give detailed consideration to the proposed remit of such a committee to ensure that it complements rather than overlaps the work of existing committees, some of which I know have already started work in this area.
"We will of course therefore be consulting conveners group on any proposals."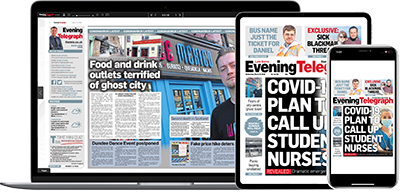 Help support quality local journalism … become a digital subscriber to the Evening Telegraph
For as little as £5.99 a month you can access all of our content, including Premium articles.
Subscribe