The Scottish Government has announced a package of measures to support drug and alcohol addicts during the coronavirus outbreak.
Speaking at a briefing at St Andrew's House, the First Minister said there would be a fund of £166,000 made available to support those with addiction issues.
A public awareness campaign about where to seek help will be funded by the money, along with increasing the capacity of the Know the Score advice service and linking those going through recovery together with the Scottish Recovery Consortium.
The funding boost will also increase stocks of naloxone, a drug which counters the effects of a drug overdose, helping it to reach more settings.
The First Minister said: "The Scottish Government has been working on how we address drug and alcohol misuse with our drug death task force and a number of other organisations including the Scottish Drugs Forum, Scottish Families Affected by Alcohol and Drugs and Public Health Scotland."
She added: "We know that times like these, which are difficult for everyone, people will need help dealing with alcohol and drug-related problems, and we want to make sure that help is available."
Scottish Government officials say the initiatives will be funded using the £93.8 million already allocated in the Scottish budget to tackle alcohol and drug misuse.
In 2018, Scotland recorded its highest rate of drug-related deaths, with 1,187, a rate higher than any country in the EU.
The statistics spurred the Scottish and UK governments to host two drug death summits at the SEC in Glasgow in January.
Public health minister Joe FitzPatrick said protecting Scots during the outbreak was the Scottish Government's priority.
He said: "Responding to the coronavirus pandemic is one of the biggest challenges of our lifetime and it will disrupt so many lives like never before.
"Protecting and supporting everyone during these unprecedented times is our priority.
"We've worked closely with organisations on the frontline to create this package of measures to ensure we continue to support those affected by alcohol and drug use.
"By working together and observing the latest guidance, we can all play our part in keeping everyone safe."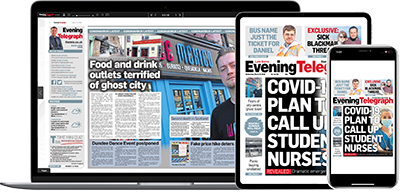 Help support quality local journalism … become a digital subscriber to the Evening Telegraph
For as little as £5.99 a month you can access all of our content, including Premium articles.
Subscribe